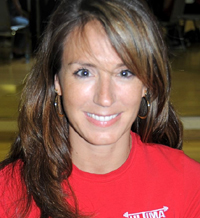 By Lynette Laufenberg
In cooperation with the U.S. Department of Health & Human Services' new Physical Activity Guidelines for Americans, Ultima Fitness wants to encourage you to "Bring a Buddy" to workout with you this month. The guidelines highlight the importance of social support in exercise — and we do, too!
Did you know research shows that social support significantly improves one's enjoyment of and adherence to an exercise routine? Not only does working out with a friend increase the pleasure and stress relief you experience while exercising, but it also pushes you to work out to your full potential. Additionally, if you enjoy your workout, you are far more likely to stick with it.
Good social support is vital for good exercise adherence. You must have the backing of your family and friends if you are going to remain faithful to your exercise program. Your family must be aware that there may be occasions when you will be home late or up early in order to exercise. Your spouse, in particular, must be understanding and accepting of this. Your friends must also be supportive and should try to avoid scheduling events that may interfere with your exercise time.
It is up to you to make sure that your family and friends understand how important your exercise program is to you. That way, you can avoid any potential conflicts or distractions which will affect your exercise adherence. If you vocalize your personal goals by sharing them with others in your inner circle, you are far more likely to succeed.
Depending on your personal preference, exercising with others can greatly improve your exercise adherence. This can be either by taking part in group exercise classes or by having a training partner. A training partner can be a personal trainer, a friend, older child or someone you just met at the gym who works out around your time and is about the same fitness level as you.
Having a regularly scheduled exercise time, for which others are depending on you, is an excellent way of ensuring that you maintain high exercise adherence. If you have arranged to exercise with a personal trainer or training partner, you are more likely to keep that appointment rather than miss it and let someone else down. Having a training partner keeps you honest. Knowing that you will let someone else down, in addition to yourself, by missing a workout session, is very good motivation for high exercise adherence. We are almost always more accountable to somebody else than we are to ourselves.
Not feeling so creative? The same is true if you take part in a group exercise class. Just bring a friend to one of our group workshops or classes. There, the two of you can experience a fun, exciting workout with one of our certified group fitness instructors. Check our web site at www.ultimafitness.com for the current class schedule.
If you miss a class, you normally have to explain the reason for your absence to others. The feeling of being held accountable is often enough to maintain high exercise adherence, which is the desired outcome.
Exercising with others is something to consider if you feel that you may not adhere to your exercise program if you workout alone. So grab a pal, a relative, a neighbor, your partner, or even a co-worker and come to Ultima Fitness. Bring a buddy to Ultima this month and receive a complimentary two-week membership on us for each of you!
Lynette Laufenberg, a certified personal trainer, is program/fitness director at Ultima Fitness/Xtreme Tae Kwon Do. Ultima is located at 12799 W. Forest Hill Blvd. in Wellington. For more information, call (561) 795-2823 or visit www.ultimafitness.com.