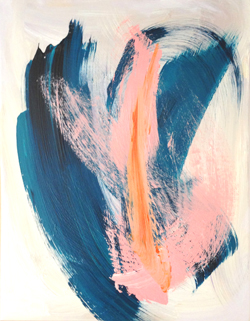 An invitational exhibition on display now through July 31 at the Lighthouse ArtCenter Gallery at Midtown in Palm Beach Gardens showcases abstract painting created by new and emerging artists who have studied with Sibel Kocabasi at the Lighthouse ArtCenter.
The paintings, created within the past two years, include the innovative use of materials and the incorporation of unconventional media and techniques. The artists are Christine Fogel, Ira Fogel, Jacqueline Rood Leopold, Buddy Lurier, Beverly Marshall, Michael Rippey, Leila Schlesinger, Carole Shulz, Jules Slotnik and Lee Tregurtha.
Curating the exhibition is award-winning artist, renowned curator and educator Sibel Kocabasi. She was born in Turkey and holds a degree in Turkish traditional arts, kilim and rug design, from Marmara University of Fine Arts. She has a master's degree in painting from Florida Atlantic University.
"I have the privilege of working with this talented and ambitious group of artists. We have collaborated to design and present this exhibition, which I feel showcases the best of our group," Kocabasi said. "I have watched these talented individuals grow and improve their work at the Lighthouse ArtCenter, through hard work and via our weekly critique session of each other's process. I'm excited to have this opportunity to present their artwork to the public."
Kocabasi has organized and curated many group exhibitions both domestically and abroad. In 2007, she conceived and curated "Undertow," featuring the work of 29 artists from Miami and Palm Beach County at Mimar Sinan University in Istanbul, Turkey.
In 2012, Kocabasi curated "Outside the Box," an exhibition of outdoor installations at the Whitespace – The Mordes Collection in West Palm Beach.
Kocabasi has exhibited nationally and internationally, including in the 10th Cairo Contemporary Art Biennale. She is the recipient of the 2006 Hector Ubertalli Visual Arts award, as well as the 2010 South Florida Cultural Consortium Fellowship for Visual Artists in Palm Beach County.
Kocabasi teaches abstract painting at the Lighthouse ArtCenter School of Art in Tequesta.
The Lighthouse ArtCenter Gallery at Midtown is located at 4777 PGA Blvd. in Palm Beach Gardens. Gallery hours are Wednesday through Sunday from 11 a.m. to 2 p.m., or by appointment.
The Lighthouse ArtCenter Museum, Gallery & School of Art, a member-supported nonprofit organization, provides visual and performing arts for the community through unique collections, engaging exhibitions and cultural programs, a dynamic school of art and diverse outreach activities.
The Lighthouse ArtCenter is located in Gallery Square North, 373 Tequesta Drive, Tequesta, one-half mile west of U.S. Highway 1. Museum hours are Monday through Friday 10 a.m. to 4 p.m. with admission free for members and $5 for nonmembers age 12 and up. Saturday hours are 10 a.m. to 2 p.m., with free admission.
Programs are funded in part by the Cultural Council of Palm Beach County, the Palm Beach County Tourist Development Council and the Palm Beach County Board of County Commissioners.
For more information on the Lighthouse ArtCenter, exhibitions, programs and events, visit www.lighthousearts.org or call (561) 746-3101.
ABOVE: Prussian Flower by Christine Fogel.