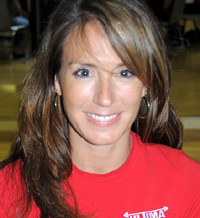 By Lynette Laufenberg
Childhood obesity has become so epidemic in this country that kids today risk having shorter life spans than their parents. If you have children, that would certainly get your attention, right?
The American Heart Association reports that about one in three American children is overweight or obese. Those statistics have nearly tripled in about 50 years. As a result, many young children today are plagued with risk factors for heart disease, including high cholesterol, elevated blood pressure, high triglycerides, raised insulin, physical inactivity and obesity. Many also suffer from low self-esteem and depression.
No one formula can be applied to overweight children. Gaining weight can be environmental, emotional, physical or inheritable. Solving the growing problem of childhood obesity is a mission that will require unprecedented levels of cooperation between multiple sectors of our communities, including schools, public health agencies, businesses and families.
What is currently lacking is a widespread understanding that childhood obesity is not the sole responsibility of the parent — or, worse yet, the child — to fix. The top cause of childhood obesity in our world today is not a change in gene structure but a shift in our children's lives toward a more obesogenic environment. This refers to an environment that promotes gaining weight and one that does not make it conducive to losing weight. For example:
• Fewer children walk to school.
• Greater amounts of homework lead to sedentary lifestyles.
• Technology now entices children more than physical activity.
• The availability of 24/7 television shows for kids encourages increased sedentary time.
• Parents work longer hours, causing kids to make unhealthful food choices in their absence.
• Kids increasingly eat heavily processed foods as a convenience.
Of course, good eating habits now make for healthy adults later. Parents have a responsibility to teach children how to live an active and healthy lifestyle. If you yourself are not leading this type of life, how do you expect your children to do it? We must be role models and help our kids develop healthy habits for a lifetime. It's one of the best gifts we could give our children.
Lynette Laufenberg, a certified personal trainer, is program/fitness director at Ultima Fitness/Xtreme Tae Kwon Do. Ultima is located at 12799 W. Forest Hill Blvd. in Wellington. For more information, call (561) 795-2823 or visit www.ultimafitness.com.
Above: Lynette Laufenberg