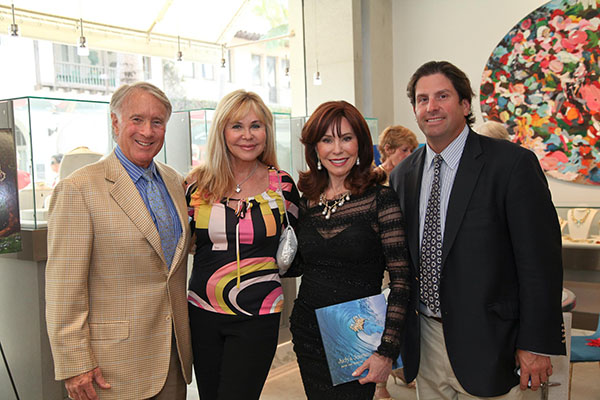 Jewelry designer Judith Murat and co-author Charles Castor celebrated the release of their whimsical adventure Judy's Journey into the Land of Murat with a cocktail party fundraiser for the American Red Cross of Palm Beach at A.R.T on Thursday, April 11.
Glamorous friends, fans and supporters, including Andrea Stark, Anka Palitz, Pamela O'Conner, Deborah O'Kain, Diana Bell, Chip and Jan Mally, A.R.T. owner Abby Patni, and the Red Cross's Jennifer Durrant and Laura Golden, sipped champagne while perusing the hundreds of magnificent, magical, pieces from different "House of Murat" collections, including Seashore, Enchanted Forest, Island and Murat's Garden. Judith, wearing her stunning pearl and diamond necklace, was kept busy signing copies of the beautiful gold-leafed books.
The colorful fable follows "Judy" on her magical journey across the stars, sea and shore. Guests were also the first to see the new "House of Murat" charm bracelet, with miniature charms of many of the accessories featured in the tale, including the gold and diamond seahorses, bejeweled mermaids, pearl-eating alligators and coconut wielding Monkeys.
Judy's Journey into the Land of Murat is available for $65 at independent retailers including the Classic Bookstore, Main Street News, Barzina and the Palm Beach Bookstore in addition to Amazon. com. For more information on Murat, visit www.judithmurat.com.
Images Courtesy Lucien Capehart Photography