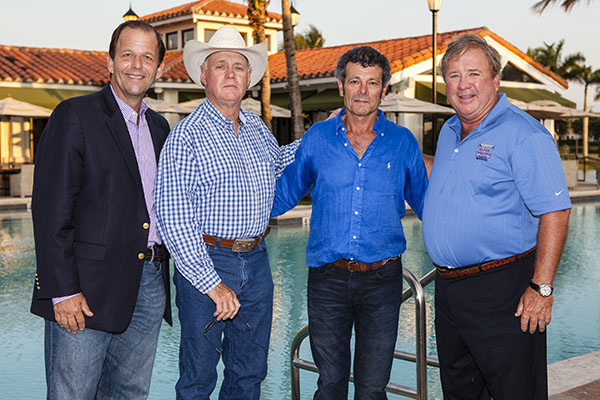 In the aftermath of the recent barn fire that tragically claimed the lives of eight thoroughbred horses at the Gulfstream Polo Club, members and friends of the International Polo Club Palm Beach gathered Saturday, March 23 and raised over $100,000 to support the owners of the horses.
Tim Gannon, a polo player and co-founder of the Outback Steakhouse, along with IPC President John Wash, organized the fundraiser for Omar Cepeda and Juan Valerdi, who were visiting the area with their horses this winter.
"We did this charity to bring everyone together so we can hand them a $100,000 check," Gannon said. "It's a tragic event for someone to lose that many horses at one time."
Cepeda and Valerdi are both longtime horse owners with ties to the national polo community. Cepeda, a 49-year-old American, has been a member of the U.S. Polo Association since 1986. Valerdi, 32, from Argentina, has been a member of the USPA since 2001.
According to Palm Beach County Fire Rescue, the tragedy struck shortly after noon on March 9, when a 50-year-old barn caught fire at the suburban Lake Worth club. Built in the 1920s, Gulfstream is the oldest polo club in Florida.
With at least 10 stalls engulfed in flames, eight thoroughbreds — some purchased for as much as $50,000 each — died in the blaze.
Two other horses sustained burns but were tended to at the Palm Beach Equine Clinic. Released this past week, both horses are reportedly doing great.
"Polo and horse lovers everywhere have been stunned by the tragedy," Wash said. "The polo community is grieving. The fundraiser was the local polo community's way of banding together to show support to the owners for their tragic loss."
ABOVE: John Wash, Jimmy Newman, Omar Cepeda and Tim Gannon. PHOTOGRAPHY BY LILA PHOTO