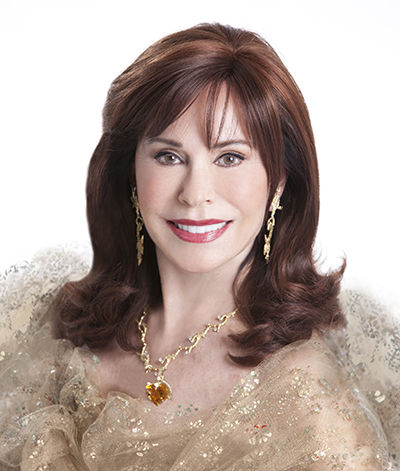 Acclaimed local jewelry designer Judith Murat will celebrate the release of her first book, Judy's Journey into the Land of Murat, by hosting a champagne reception at A.R.T (249 Worth Avenue, Palm Beach) from 6 to 8 p.m. on Thursday, April 11.
Murat, along with her co-author Charles Castor, will welcome friends and fans of her jewelry line, House of Murat, for a sneak-peak of the gold-leafed, hard copy edition of the whimsical adventure story.
The Palm Beach resident will also be on hand to sign books during the three-day trunk sale at the unique jewelry and art boutique, with 15 percent of proceeds going to the American Red Cross.
The colorful fable follows "Judy" on her magical journey across the stars, sea and shore with pieces from the House of Murat collection, including regal gold and diamond seahorses, bejeweled mermaids, pearl-eating alligators and coconut-wielding monkeys, coming to life to help the heroin find the secret of true happiness.
Judy's Journey into the Land of Murat is available for $65 at independent retailers including the Classic Bookstore, Main Street News, Barzina and the Palm Beach Bookstore, in addition to Amazon.com.
House of Murat designs have been adorned by a slew of celebrities, including Anne Hathaway, Tyra Banks and Jennifer Lopez, and signature pieces from this current collection will be available at the event.
Also found at A.R.T. is a series of exhibitions throughout the season of artists' work curated by Jane Holzer and has included works of Andy Warhol, Damien Hirst, Marc Quinn and sculptor Claude Lalanne. Throughout the year, A.R.T. hosts designer trunk shows, in-store shopping events and private parties benefitting local charities.
For more information on Judith Murat, visit www.judithmurat.com.
ABOVE: Acclaimed jewelry designer and Palm Beach resident Judith Murat.