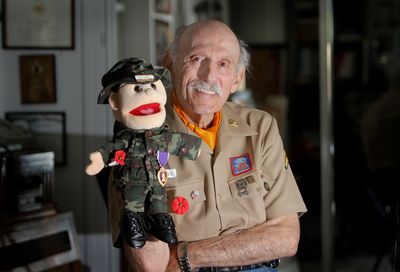 American Legion Auxiliary, Royal Palm Beach Unit 367, will hold its monthly meeting Wednesday, May 1 at 10 a.m. at Palms West Presbyterian Church (13689 Okeechobee Blvd., Loxahatchee Groves).
Unit members wanted to show their appreciation for all that veterans have done to help protect and defend our freedom. Veterans and the public are invited to join Cpl. Burt Richards from the Veterans Speakers Forum for an exciting look at honoring those who served and a review of some American history.
Attendees will learn about the meaning of the Pledge of Allegiance and the changes that have occurred with the pledge, the writer of the words and the music for the United States' national anthem. A World War II veteran will explain what a veteran is, who created G.I. Joe and more. The program will end with a review of the Marines' WWII Battle on Iwo Jima and the meaning and significance of Armed Forces Day and Memorial Day. Snacks and drinks will be served after the event. Call (561) 818-9114 or e-mail marge@herzog.ms to RSVP.
The unit selected the month of May because there are three important veteran events that are celebrated during this month: two days honoring those lost in WWII, Armed Forces Day and Memorial Day.
The United Nations designated May 8 and 9 the "Time of Remembrance and Reconciliation for Those Who Lost Their Lives during the Second World War." Though not a public holiday, since 2005 it has been recognized worldwide as the day when WWII Allies accepted the surrender of Nazi Germany, ending Adolf Hitler's Third Reich.
Armed Forces Day is celebrated on May 18 and honors Americans in uniform who have served their country in times of war and peace. Members of the military are honored with military displays, educational activities, "support the troops" events, and local parades and celebrations.
On Aug. 31, 1949, U.S. Secretary of Defense Louis Johnson announced Armed Forces Day to replace separate military-branch-specific holidays. The event stemmed from the armed forces' unification under one department — the Department of Defense.
The inaugural Armed Forces Day was celebrated on May 20, 1950, and the theme "teamed for defense" represented the unification of the military under one government department. According to the U.S. Department of Defense, the day was designed to expand public understanding of what type of job was performed and the role of the military in civilian life.
Since 1971, Memorial Day has been officially observed on the last Monday in May. Memorial Day started as an event to honor Union soldiers who had died during the American Civil War. It was inspired by the way people in southern states honored their dead. After World War I, it was extended to include all men and women who died in any war or military action.
Memorial Day was originally known as Decoration Day until after WWII, and was initially held on May 30 each year. On Memorial Day, it is traditional to fly the U.S. flag at half-mast from dawn until noon. Many people visit cemeteries and memorials, particularly to honor those who have died in military service. Many volunteers place an American flag on each grave in national cemeteries.
Over the years, Memorial Day has become less of an occasion of remembrance for those who gave their lives during military actions. Many people choose to hold picnics, sports events and family gatherings on this weekend. This day is traditionally seen as the start of the summer season for cultural events.
ABOVE: Corporal Burt Richards with his G.I. Joe puppet buddy that he uses when telling the story of what veterans did during World War II non-combat times. He tells how the idea for the puppet came about and who is credited with creating G.I. Joe.