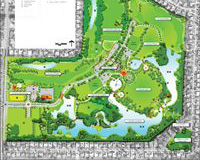 More than 50,000 people were on hand for last month's grand opening weekend of the new Royal Palm Beach Commons Park.
Royal Palm Beach Parks & Recreation Director Lou Recchio updated Recreation Advisory Board members about the park's opening celebration at their meeting Monday, reporting that more than 26,000 cars were recorded over the weekend of March 22-24.
"If you took 26,000 cars and there were only two people per car, there were over 50,000 people," Recchio said. "We all know there were more than two people per car, so it was an excellent turnout. For those of you who weren't there, you missed a great weekend.
Recchio said that there have been 131 rental requests for the park's pavilion already, and a half-dozen requests for wedding reservations at the sporting center, which features a picturesque third-floor event space.
"The thing that's holding us back now is we're still trying to get the final certificate of occupancy on maintenance there so we can move in," he said, explaining that the main floor will be set up so people can sit and relax, use Wi-Fi on their computers and have coffee. "It's not going to be a standard café. It's going to be similar to a Starbucks with end tables and cushioned chairs."
The furniture on the patio outside will be next, Recchio said. "We've already picked it out, it has gone out for bid, and once we get those back, we'll be ordering it," he said.
At the third-floor party room, village staff is looking at some alterations to make better use of it. "It's amazing what you see on paper and you get something built, and then when you're actually there, you see the possibilities that you're missing," Recchio said.
People are using the driving range and playgrounds extensively. "I think it's going to be very successful," Recchio said. "I've never seen a park like it."
With the park's initial success, Recchio said he is considering reopening the engraved paver brick program to collect money for various causes. The idea had received lukewarm response before the park opened. "Now that people see it, everyone wants bricks," he said. "We have to see what it costs because now we have to pull the bricks out."
Recchio noted that plans for a dog park at Commons Park are in this year's budget as a capital improvement. It will be divided into areas for small dogs and large dogs and will have a number of amenities for pups and their owners.
"We will be getting designs on the best way to lay this out," he said. "It will be nice. When they drive into the facility, it will be one of the first facilities that you come to. Right now there's grass parking right in front of it so you don't have to walk a long distance."
A number of oak trees have already been planted for shade, which has been a concern at other dog parks in the village, he said.
Recchio said about $63,000 is in the budget for the park. "Once we get the design and how we want to lay it out, the biggest thing is getting water to it and putting the fence up," he said. "I'm confident it will be done before the end of the budget year."
Recchio also reviewed plans for a flying disc park that staff is proposing on an undeveloped portion of the park originally planned for a par-3 golf course. The golf course was put on hold due to the maintenance cost and lack of need. The site is on the north side of the main entrance by the Harvin Center and the driving range along the back of the park, which would act as a buffer between the residences and the rest of the park.
Recchio said flying disc golf has become popular. "I've gone out and played, and it's not as easy as it looks," he said. "It's not a huge expense, and yet it's something that's gaining popularity and it will make use of some of that area."
The board voted unanimously to support the idea.