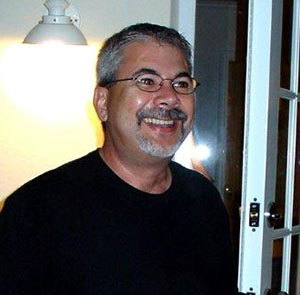 Raymond Kahn, 59, passed away late Monday, April 22 after a long illness. A 30-year Wellington resident, he battled an illness similar to Parkinson's disease called multiple system atrophy (MSA).
Born in the Philippines, Raymond was the son of Rene and Dolores Kahn, husband of Margarita Kahn, and father of Matthew and Stephanni Kahn.
He came from a large, close-knit family. Brother Mario Kahn wrote that Raymond built a home centered on love where each waking moment with his wife and children were treasured.
Shortly after their New Year's celebration, before Raymond slipped into a coma, he wrote that he hugged his wife, said he loved her and that she had been strong for him when he was weak.
Raymond's New Year's resolution was to completely accept his disease as a gift of transformation and allow it to mold him into a better person. "Thank you to you all, and I wish in return to extend my sincerest best wishes and all my love to those who surround me and most especially to the man above," he wrote.
Matthew said he cherished every second with his father, and a day didn't go by that he did not tell his dad he loved him. Raymond taught him many lessons about life, but one of the most important was about family. "There is nothing more important in life than family, and without family you have nothing," Matthew wrote. "My dad did everything he could to keep our family strong and united, and I couldn't be more thankful to have a dad who cares so much. My dad was more than a dad, he was a provider, a role model and my best friend."
When Raymond was diagnosed with MSA, which has no known cure, Matthew wrote that his father told him to stay strong and take care of his mother and sister. "My dad may be gone, but his spirit will live on and be with me until the very end," he wrote. "My dad always told me that life is going to bring you down to your knees when it gets tough, but you have to be willing to take the hits, pick yourself up and try again, and you will succeed."
Stephanni wrote that her father makes up a big part of the many memories and moments her family shared.
"What makes a perfect dad? To me it's someone who gives you the world and also shows you the world at the same time," she wrote. "My dad was the designated pilot, and he made sure all four of us went all over the map on many family vacations."
Their summer visits to Captiva became a family tradition. They also traveled to Colombia, where they spent their Christmases, New York City, Thanksgivings in North Carolina, Oklahoma, Georgia, California, Italy, France, Spain, Portugal, The Bahamas, Jamaica, China, The Philippines, and made numerous trips to Disney World.
"My parents made sure Matthew and I were exposed to more than just our zip code, making sure we found adventure together and discovered all the beautiful people and places around the world," she wrote. "Dad, you always made me feel like I was floating on cloud nine and never let me forget that I was always going to remain your baby girl. No matter how much I outgrew your lap, I would never outgrow your heart."
Mass will be held for Raymond Kahn on Friday, April 26 at 2 p.m. at St. Rita Catholic Church in Wellington, followed by burial at Our Lady Queen of Peace Cemetery.
Donations are being accepted in his name at the National Institute of Neurological Disorders and Stroke. For more information, visit www.ninds.nih.gov/disorders/msa.
ABOVE: Raymond Kahn