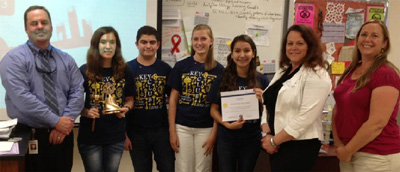 Works from the Seminole Ridge High School student art exhibition Student Responses to "Pour" & "Papercuts" will be on display at the Schmidt Center Gallery at Florida Atlantic University (777 Glades Road) beginning Friday, April 12. The school will celebrate with an opening from 6 to 8 p.m. at the gallery.
Hawk students were asked to make connections to the artworks they observed in two earlier exhibitions ("Pour" and "Papercuts"), then explore these connections through different artistic expressions: creative writing, painting and book arts.
For more information, contact carly.gates@palmbeachschools.org or gwenn.seuling@palmbeachschools.org.
Choral and Band Awards — Seminole Ridge High School congratulates choral students and groups for their outstanding performances at the Florida Vocal Association South State solo and ensemble assessments March 25 at Boynton Beach High School.
Soloists — Honors Superior (selected for honors recital): Alexis Rizzolo; Superior: Sidney Clarke-Lequerique, Marlina Karimi, and Gabriella Thomas; Excellent: Bayleigh Kilpartick and Mairead O'Rourke.
Ensembles — Superior: SRHS chamber ensemble; Excellent: SRHS varsity show choir.
SRHS also congratulates band students for their great performances at FVA State on March 26 in Ocala.
Superior with Distinction — Luis Small and Amanda Vargo, marimba solos; David Caballero and Victoria Osborne, percussion duet.
Superior — Kyle Burton, trumpet solo; Brenden Cohen, alto saxophone solo; Gianna Cannestro, French horn solo; Shania Leone, flag solo; Cory Sanchez, flute solo; Samantha Morgan, Cory Sanchez and Heather Vargo, flute trio; Craig Buttery, Brenden Cohen, Julie MacDonald and Joel Zayas, saxophone quartet; Craig Buttery, Kaylee Fagan, Brendan Gearty, Marlina Karimi, Bayleigh Kilpatrick, Christopher Martinez, Samantha Morgan, Stephen Peterson, Sarah Probst, Cory Sanchez, Heather Vargo and Joel Zayas, woodwind choir.
Excellent — Alanna Brescia, flag solo; Marlina Karimi, clarinet solo and piano solo; Scott Kuczynski, euphonium solo; Jacob Perry, clarinet solo; Emily Brown, Alana Brescia, Sydney Clarke-Lequerique, Cassandra Elliot and Shania Leone, guard ensemble, level I; Nicole Baron, Jamie Chase, Hailey Collins, Stephanie Head, Katelyn Langevin, Suzette Mojica and Cheyenne Perryman, guard ensemble, level II.
Chamber Scholarship — The Central Palm Beach County Chamber of Commerce has chosen Hawk senior Madison Harding to be awarded a $1,000 scholarship. Harding, who plans to attend Florida State University and major in hospitality, will received the scholarship at an honorary luncheon this month.
SRHS Key Club — The Seminole Ridge High School Key Club recently received its official national charter, Club President Monique Costner has announced.
"Being chartered makes our club a part of the national and international Key Club organizations," Club Advisor Karensa Wright said. "We become official, and our students can run for office in those larger organizations."
The Lake Park Kiwanis Club funded the charter cost of $600, presenting the club chapter with a charter certificate and banner, a gavel, and officer pins.
Above: (Left to right) SRHS Principal James Campbell; Key Club members Monique Costner, James Nunez, Victoria Dukharan and Camila Yepes; Stacy Haynes of the Lake Park Kiwanis Club and Club Advisor Karensa Wright.