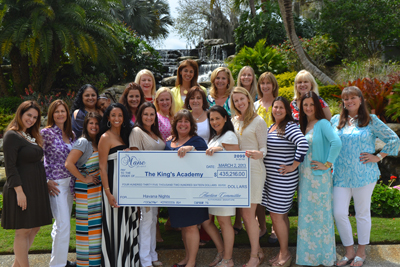 On Saturday, March 2, more than 250 friends and families of the King's Academy came together for the Mane Event Dinner & Auction, the school's major fundraising event of the year.
It was a huge success thanks to the generosity of so many people who joined in the effort. Co-chairs Teddy Walker and Denise Meers along with an amazing leadership team of Lisa Gerardi, Irelys Pattee, and Cristina Rodriguez led the event, which raised more than $435,000.
This year's event, titled "Havana Nights," was held at PGA National Resort & Spa. TKA supporters had the opportunity to show their support by bidding on more than 500 unique silent and live auction items, including family getaways, entertainment events, memorabilia and the wildly popular "We Love TKA" spirit experiences.
During dinner, guests were treated to live entertainment with a Latin flair by the school's vocal and dance departments under the direction of David Snyder, the school's artistic director. This year's special project, Call from the Heart, raised more than $36,000 for TKA's Focus on Technology initiative.
The annual event has raised nearly $2.7 million over its 12-year history. All proceeds from the Mane Event support the King's Academy's Annual Fund, including need-based financial assistance, co-curricular programing, faculty development, facilities improvement and technology.
TKA offers special thanks to presenting sponsors Insurance Office of America, Equity Trust Company, Regal Paint Centers, Revan Racing Inc., the Maguire family, the Monte family, the Raese family, and the Titus family, as well as Diamond Sponsors: the Aiello family, and Platinum Sponsors: Braman Honda – the Rodriguez family, Insurance Express – the Graceffo family, Wells Fargo Bank NA and a Friend of TKA.
For more information, visit www.tka.net.
Above: The TKA Auction Committee with a check for $435,000.