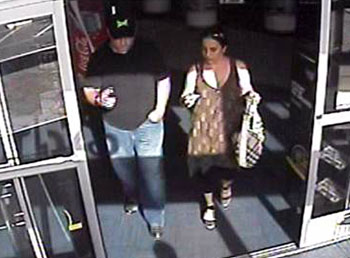 The Palm Beach County Sheriff's Office is seeking the public's help in identifying two suspects in a case of theft. According to a PBSO report, on Tuesday, March 19 a man and woman entered the Best Buy on State Road 7 and stole four radar detectors.
According to the report, at 5:08 p.m., the unknown man entered the store and entered the electronic department where he spotted a customer. Once the customer left, he signaled the woman to join him. According to the report, the woman entered the store at 5:12 p.m. and pulled out a magnetic key and opened the locked case where the radar detectors were. The woman switched them with leather GPS cases, which made it seem like nothing was missing. According to the report, the man and woman concealed four radar detectors under her shirt and walked out of the store, passing all points of sale.
The male suspect is described as possibly Hispanic, wearing a "Tapout" cap, black polo shirt and jeans. The female is described as possibly Hispanic wearing sunglasses, a long brown shirt and black leggings, carrying a large Burberry bag. Anyone who can identify them is urged to contact Crime Stoppers at (800) 458-TIPS.
ABOVE: Suspects wanted for Best Buy theft.