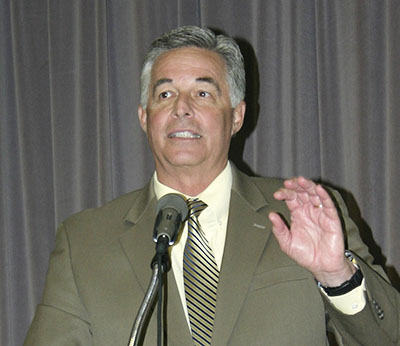 Palm Beach County Schools Superintendent Wayne Gent was the featured speaker at the education-themed Central Palm Beach County Chamber of Commerce luncheon held Monday at the Royal Palm Beach Cultural Center.
Gent said that one of the Palm Beach County School District's biggest upcoming challenges will be implementing the Partnership for Assessment of Readiness for College and Careers (PARCC) computer-based student testing due to go into effect next year. Another top goal is to continue to maintain an A grade for the district overall.
Gent noted that the school district is a large organization, with an annual budget of almost $2.4 billion. Including charter schools, it has about 21,000 employees, with 13,000 teachers and a volunteer program of almost 40,000 people. There are 175,000 students and 150 languages spoken. More than half of the students are on the free lunch program.
The district was recently recognized as being a high-performance district for receiving an A rating for the eighth consecutive year, with almost 100 schools receiving A grades and about 30 with B grades.
"Six of our high schools have received prestigious awards from U.S. News & World Report and Newsweek magazine," Gent said.
The district was also a strong contender for an award recognizing districts having a greater percentage of Hispanic and African-American students graduating than other urban districts in the country, he said. "Miami-Dade County won the award, and I believe that was their fifth or sixth try, and they were most deserving of the award," he said.
The district had the eighth-highest graduation rate among the nation's urban districts, and the second-best in the state, Gent said.
He noted that the district has more than 1,200 business partners. "The business partners are very important to us," Gent said. "The schools can't do it alone."
The district is proud of its 227 career academies, he added.
"We've won awards on those," Gent said. "Many of our students passed what is called an industry certification exam. We've gone up from 51 percent to 77 percent of students who have criteria or credentials to help them go out and do well, whatever that industry would be, and to be able to perform at a higher level because of the training that they received."
Gent noted that the district refers to the program as Career Technical Education or CTE. "It's another term for vocational education. I don't like to use the term 'vocation' because some folks view that as a dumbing-down, or that certain students can't perform at high levels and need to work with their hands, but the mechanic who works on your car has to be able to read the auto manuals to be able to work on your engine, which requires a higher literacy level than some of the literacy classes offered at some of our colleges," he explained.
The district has almost 6,000 students taking higher-level and dual-enrollment courses. "We have a diverse population of students there, so we've been able to increase the rates of our Hispanic students and African-American students to take pride in courses as well, so that's a very encouraging statistic," Gent said.
Many Palm Beach County students go on to the nation's top colleges, with 67 percent of students heading to post-secondary schools, he said.
Gent said that Florida has raised the bar for academics by introducing PARCC. "FCAT itself was a very rigorous exam," he said. "Those standards have now been increased."
Students in middle school will have to do algebra, geometry and biology.
Challenges for the state include the implementation of a new national curriculum with high standards that will require teachers to teach in a different manner, Gent said.
"For our teachers to be successful and be doing this, they're going to have to be trained, so one of the challenges we face is how do we train all of our instructors on a common core, or a new way of teaching, and still maintain the high standards?" he said.
Gent explained that under PARCC, all students will be required to take an online test to show their proficiency that will start in third grade.
He said some Florida students are already taking the exam. "Next year, by law, everyone has to do that," he said.
ABOVE: Superintendent Wayne Gent addresses the chamber.