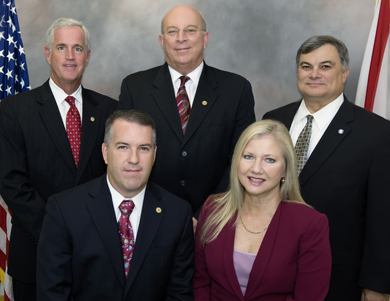 Members of the Wellington Village Council unanimously approved a resolution last week to plat the Blue Cypress development at Palm Beach Polo & Country Club.
The change was necessary after Wellington's Planning, Zoning & Adjustment Board voted last year to rehear and revoke the property's site plan because members thought that a road change had encroached on frontage owned by Neil Hirsch.
There is also a lawsuit brought by Palm Beach Polo owner Glenn Straub regarding the matter, and council members were concerned at the April 9 meeting that the lawsuit had not been resolved.
The new plat would affect a little more than 24 acres owned by Straub, which includes 10 estate lots and all necessary rights-of-way and easements.
The change would realign Blue Cypress Lane and create Blue Cypress Blvd., as well as create 57 zero-lot-line residential lots.
Councilman John Greene asked attorney Claudio Riedi, who presented the application, what would be constructed between the two roadways.
Riedi said the property had future development rights for 10 units. "In order to develop them, they would have to come back and replat," he said. "They'd have to get a site plan."
Greene asked whether both Straub and Hirsch were in agreement with the new plat, and Riedi said that they were.
Councilman Matt Willhite asked why there was still a lawsuit over the matter.
"This agreement is by both parties; however, there is still a lawsuit pending," he noted. "Was there any discussion about dropping that lawsuit if this agreement was brought forward?"
Riedi said that it was still being discussed.
"I don't think it will be imminent, but my crystal ball tells me that will be occurring sometime in the future," he said. "Eventually those lots will need to be developed and sold. They will not want the lawsuit pending; that will kill the title. It is in their best interest to resolve and settle the lawsuits."
Greene noted that the council could not place a condition on the plat to force settlement of the lawsuit, but he reached out to Straub, who was sitting in the audience.
"Both parties have come to an agreement in what they were trying to achieve," he said. "Clearly, the desire is to be able to sell and develop these lots. This seems to be an avenue to achieve this. As a goodwill gesture, I would kindly ask that you consider dropping that lawsuit. Is that something you would entertain?"
Straub said he would not. "Not tonight," he said.
Despite concerns, council members expressed confidence that the agreement was the best deal for everyone involved.
Willhite made a motion to approve the measure, which passed unanimously.
In other business, council members gave final approval last week to the Family Vision Center development on State Road 7 just north of Palomino Drive.
The 1-acre parcel is located east of the Farmington Estates community and would include a 5,000-square-foot medical office building.
Agent for the applicant Don Hearing noted that about 1,500 square feet of the space would be open for professional office or medical office leasing.
During public comment, Wellington Chamber of Commerce Past President Alec Domb said the chamber was fully in support of the office coming to Wellington. "It would be a great addition," he said.
The ordinance passed unanimously.
ABOVE: The Wellington Village Council.