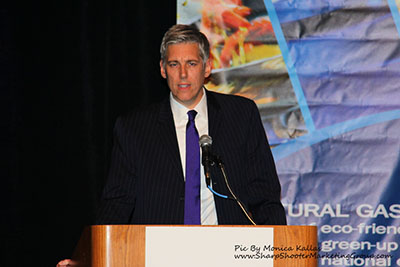 The Florida Green, Energy & Climate Conference 100 Cities Summit presented another successful event May 22-23 at the Palm Beach County Convention Center. The conference was coordinated by the Central Palm Beach County Chamber of Commerce in collaboration with Palm Beach County and the United States Green Building Council. Those attending included municipal, county and school district sustainability leaders from throughout the state. Attendees enjoyed two days of intensive general sessions and panel discussions led by experts in the field of sustainability.
Patrick J. Sheehan, director of Florida's Office of Energy, discussed the ways Florida is moving forward in its collective efforts to develop a meaningful energy policy for the state. He was accompanied by a legislative panel, including state senators Joseph Abruzzo and Jeff Clemens and state representatives Lori Berman and Mark Pafford. Other featured speakers included Palm Beach County Mayor Steven Abrams, Julio Fuentes of the Florida State Hispanic Chamber of Commerce, Jennifer Dunham of the Florida Opportunity Fund, Kim Delaney of the Treasure Coast Regional Planning Council and Raphael Clemente of the Downtown Development Authority.
Among the many subjects featured at the conference was "balanced energy." Gordon Lambert, executive advisor on sustainability and innovation for SUNCOR Energy, joined a group of experts who highlighted a portfolio of fuels that collectively promote fuel diversity and provide price stability for Florida families and businesses in an environmentally sensible manner. Florida cities, including Wellington, discussed their successful public/private partnerships. The importance of promoting Florida's assets and attracting investors to the state was also discussed.
Robin Safley, director of the Florida Department of Agriculture's Division of Food, Nutrition & Wellness, led a panel of experts from the health industry, farming, schools and government on raising a healthy generation of students. Palm Beach County School District joined in this year with a program designed specifically for students. There was also an essay contest, and graduate students from area universities were also in attendance.
For more info., visit www.floridagreenconference.com.
ABOVE: Patrick Sheehan speaks at the conference.