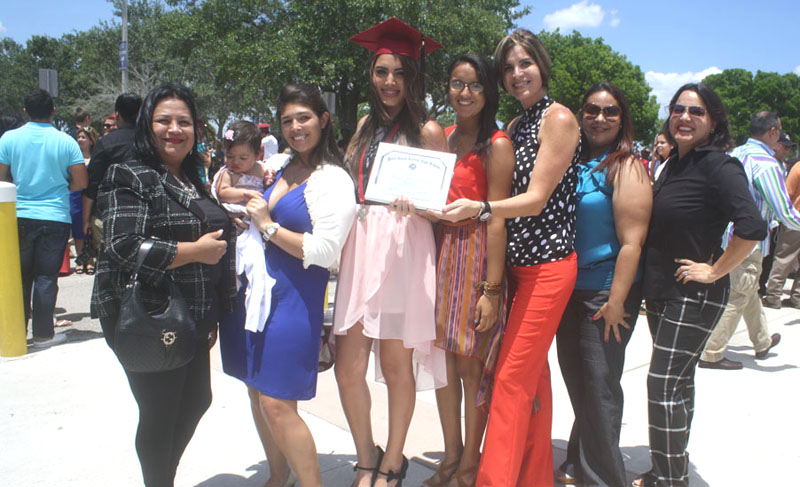 Palm Beach Central High School graduates were characterized as a generous class who worked to make lives better for others. As the 675 students crossed the stage last Thursday at the South Florida Fairgrounds Expo Center, they were encouraged to never lose their passion for giving.
VIDEO: Slideshow of PBCHS Grad Photos
"We know that intentions do not accomplish anything," Principal Butch Mondy said. "Eventually we have to step out and make a difference. You didn't have to, but each one of you stepped out. Seniors, you are truly difference makers."
The Class of 2013 will be remembered for what it gave to the school and the community, Mondy said. That includes more than $42,500 raised this year alone for the St. Baldrick's Foundation, more than $20,000 for the Children's Miracle Network through a dance marathon, and more than $15,000 to build a school in Africa. Students also donated more than 753 pints of blood to save lives.
Salutatorian Alexis McClanahan said she hopes her class will continue to give back. She told the proverbial story of a man on a beach throwing starfish back into the water. Though he could not save them all, the man was happy to make a difference in the life of each one he saved.
"Often we ask ourselves, 'How much of a difference can I really make?'" McClanahan said. "Though we may not be able to make a difference in the entire world, we can make a world of difference in someone's life."
She encouraged each student to find their starfish. "My hope for the Class of 2013 is that we always strive to positively impact the lives of those we encounter," McClanahan said. "I hope that each and every one of us will leave this world knowing that we did not let fear stand in the way of accomplishing all that we could. I hope we chase our dreams, but always remember to count the blessings of the present. I hope we all find our starfish and leave our footprints on the world."
PBCHS seniors will also be remembered for their accomplishments, earning more than $6 million in scholarships and having a National Merit Scholarship nominee for the first time in school history.
It is the education that students received that will help them be better citizens, Senior Class President Michelle Lacouture said.
"Education allows us to see the world beyond the limited construct of our own lives," she said. "It allows us to stand on the shoulders of our predecessors and learn from their experience and knowledge."
But it is not without the help of family, friends, teachers and administrators that the seniors were able to get to this point, Lacouture said.
"We have had the blessing of being part of a community that accepts us as we are and gives us the freedom to be who we will become," she said. "To show our appreciation… we must find our passion and cultivate our talents. In doing so, the world will remember us each as individuals, and collectively as the Palm Beach Central Class of 2013."
Valedictorian Dimitri Alexis said that students must find their own talents. "With all the great academic achievements I've done in my life, I cannot paint a portrait. I can't even color in the lines," he said. "But these are not my talents."
Alexis said that many people wear a mask in life, afraid to shed it and show the world their true faces.
"We use our masks to play hide and seek in plain sight," he said. "My hope for you today is that you remove your masks and let the world see your faces."
Alexis said he hoped students would come into their own and have the confidence to be themselves. "We wear our masks to get through life, not to live it," he said. "It's time to show the world your true face."
As the Class of 2013 gets ready to step out into the world, School District of Palm Beach County Superintendent E. Wayne Gent reminded students that they are now responsible for their choices.
"You will be starting a new way of life," he said. "You will now make decisions, solve problems and do things as an adult. Are you prepared to be responsible?"
He encouraged students to continue to help others as they go through life.
"A pessimist sees a glass of water as half empty," he said. "An optimist sees that same glass as half full. But a giving person sees that glass of water and starts looking for someone who might be thirsty."
As the seniors turned their tassels, Mondy thanked them for all they have given to the school.
"Life is not remembered by the number of breaths we take, but the moments that take our breath away," he said. "I wish you continued success, a lifetime of breathtaking moments and I thank you so much for what you have given and the legacy that you leave to Palm Beach Central High School."