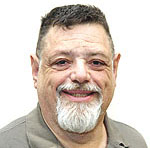 'I' ON CULTURE
We saw the musical Priscilla, Queen of the Desert, and it provides a great, fun evening. The story of three drag queens traveling through the great Australian desert contains more than a few laughs, a few tough moments, a couple of poignant scenes and songs you can really dance to.
Actually, by using the biggest hits of the disco era, all problems can disappear. Facing down a group of bigots in a small town is a lot easier when you get them to boogie with "I Love the Nightlife." Amazing how disco calms the savage breast… even when it's silicone. A minute after the triumph, however, the "girls" see their bus (Priscilla) defaced. But even that sadness leads to a repainting (to the song "True Colors") with a chorus dressed as large paintbrushes.
Comedies about drag queens go back in recent years to the film La Cage Aux Folles, a '70s movie, later turned into a Broadway musical and then redone as The Bird Cage. A bow should also be given to To Wong Foo, Thanks for Everything, Julie Newmar, a strange movie that turned Patrick Swayze and Wesley Snipes, two of the biggest screen masculine heroes, into drag queens (John Leguizamo was the third member of the trio). But those films all focused on the commonalities between the gay world, even its most extreme members, and "straight society." The gay couple in Cage was shown as a typical old married couple facing issues that were not of their own causing.
Priscilla presents things differently. Mitzi, Bernadette and Felicia push to be accepted on their own terms. Mitzi, whose real name is Tick, was married and is the father of a young son who wants to meet him. Felicia is a youngster who enjoys being outrageous, while Bernadette, who has been around for a while, wants to find a lover who can provide full acceptance. And, in our changing world, they eventually find pretty much what they want.
Of course, having the greatest fun hits of the recent past did not hurt. The score includes: "It's Raining Men," "What's Love Got to Do With It?" "I Say a Little Prayer for You," "Material Girl," "Like a Virgin," "Shake Your Groove Thing," "Girls Just Want to Have Fun," and, of course, "I Will Survive."
I was struck by the idea of how well disco can overcome explosive social issues. Most of our politicians debate issues that really affect very few of us. Taxes? Well, all of them go by the idea that they should promise that we will not be the ones that pay more, it will be someone else. And then our tax bills go up and their friends will somehow wind up with more money in their pockets. A hundred and fifty years ago, Lincoln's first secretary of war, Simon Cameron, defined an honest politician as "one who stays bought."
So let's ignore most of what they say. Most of the biggest arguments come over asymmetric issues, ones where a handful of people really care about something while the rest of us are not particularly affected. Instead of arguing over those things, why not do what they do in Priscilla? Let's get up and boogie oogie oogie 'til we just can't boogie no more. It certainly beats listening to politicians who seem certain they know how we should live our lives. We have mayors who demand an end to sugar-filled sodas but create exceptions for coffee drinks that have more sugar and caffeine. Why? Because their friends like the coffee. And we have celebrities who surround themselves with armed bodyguards and demand more gun control for everyone else. And we should not forget the truly important who call for smaller cars and shorter airline flights for us while traveling in limos and private jets.
When they start with their advice, get up and dance. They want to rule you; ignore them as long as possible and dance. They want you to hate someone; get up and dance with them. Will it solve any problems faster? Well, probably not. But, on the other hand, it's likely that it won't slow down the process, either.
And you'll be a lot happier (and probably slimmer). And, even better, the haters and the corrupt political class might even decide to allow us to be happy. The "girls" in Priscilla were a lot happier at the end. Perhaps we will be as well.