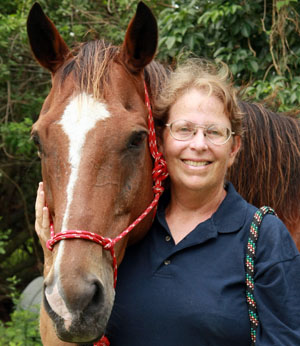 TAILS FROM THE TRAILS
Elena Oleinikova came a long way to live and work in Wellington. She grew up and began her riding career in Moscow.
"I feel lucky," she said. "You would think that living in Russia might be scary, but it wasn't. They had a different system, nothing to be scared of. I always loved horses, and when I was 3 years old, the state built the Bitza Equestrian Complex, a huge, wonderful equestrian facility right in the city, near the park. It had a hotel and a swimming pool. It's where the Olympic pentathlon athletes trained."
The facility had many components — indoor arenas, more than a dozen outdoor training areas, a stadium jumping field, a full-sized cross country course, rings with all sorts of footing and the best horses in the country.
"Back then, no one owned horses privately. They were all owned by the state," Oleinikova recalled. "They offered everything — jumping, eventing and dressage, which I had seen on TV and fallen in love with. I wanted nothing more than to ride and train there, but I was too young. They didn't take students less than 12 years old. Somehow, I was allowed to start riding with them, just basic, general riding, when I was 11. I had to take three different buses to get there."
After her first year, Oleinikova was allowed to work more with the horses, to ride and train them and get them conditioned.
"There was no such thing as riding as a hobby back then in Russia. Everything had to be done as part of the official sport program, so you were always working at different levels and trying to improve and move up. I started out in jumping, but I always loved dressage," she said. "I wanted to earn my degree in horse breeding, but it was very hard to get into that program. So I ended up studying animal husbandry. It gave me a very solid base in being able to understand and work with all kinds of animals. But what I wanted was to work with horses."
With the fall of the old Soviet Union in the late 1980s and early 1990s, new opportunities opened up. "Private business was allowed. I got a job caring for and training horses, and started my own riding program for teenagers. But the economy got really bad, so I had to shut it down," she said.
Oleinikova eventually found work in a completely different field: as a casino croupier on a cruise ship, which gave her the opportunity to travel. The cruise line was based in Florida, so that's where she ended up. And although she liked meeting new people and traveling, she missed horses. Eventually she bought a car and found Wellington, which she describes as "an awesome place where there are so many things for horses."
Lots of dressage, too.
In 1999, Oleinikova started scribing for dressage judges, writing down all their notes and comments during classes, and also riding a little. She wanted to learn more and volunteered at the Vinceremos Therapeutic Riding Center, then became a full-time instructor for a year. She took dressage lessons and fell into a great deal where she worked with a friend's stallion for a year and, in return, got a lovely gray mare, La Maja, with whom she's now schooling in Grand Prix. "She's a lot of fun to train," Oleinikova said.
All of which leads to her next endeavor: equine massage. Oleinikova took an extensive six-month course with Mike Scott and learned the art through practical sessions, reading assignments, lectures and hands-on practicums.
"My background in animal husbandry gave me an excellent understanding of anatomy, physiology and biomechanics, which gives me a deeper perspective on what's wrong and how to ease problems," Oleinikova said. "Nutrition also plays a very important role in a horse's well-being. The wrong diet can produce a very uptight horse. Even before I start a massage, I pay attention to everything about the horse and form an overall impression: how he stands, how he moves, how he reacts. Is he comfortable? Uncomfortable? Is he happy to see me?"
She then methodically checks the horse's body.
"I start with the head, jaw and TMJ joint, check all the stress points and massage the ears. There are a lot of interconnected muscles there. I move down the neck to the spine and check his range of motion for any tightness or soreness," Oleinikova explained. "It's very important to work on the stress points, especially in a horse doing dressage. Some of those horses only get to go from their stall to the arena and back again. They may not get turned out often, and working the same group of muscles over and over can cause stress and soreness from overtraining, and lead to an injury. Massage is a good way to release some of that tension. It feels good, and it's also preventative."
Oleinikova enjoys making horses feel comfortable.
"I can also work with the rider to evaluate what work the horse is ready to attempt," she added. "I work with all sorts of horses, everything from backyard pets to high-end competitors — old horses, young horses, retired horses. A massage is something every horse enjoys and benefits from. It feels great, and makes them happy. What could be better?"
For more information, call Oleinikova at (561) 449-6446 or visit www.massagefordressage.com.