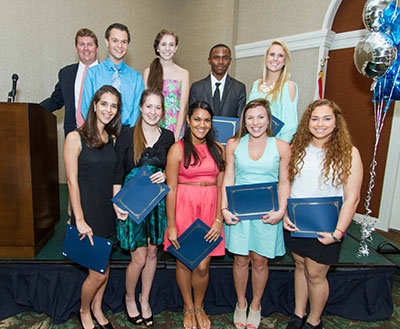 Leadership Palm Beach County recently honored student graduates of its Youth Leadership Program and awarded college scholarships to nine program participants who reflected on leadership and their own career focus in outstanding essays.
The graduation celebration was held May 15 at the Airport Hilton in West Palm Beach. More than 150 guests enjoyed remarks by program chair Eric Hopkins as well as a keynote address by Ed Chase.
The 2013 Youth Leadership Class was composed of 46 high school juniors representing 23 different schools throughout Palm Beach County. Selected by school principals and guidance counselors, Youth Leadership class members are immersed in a nine-month curriculum that gives students unparalleled access to county industries, leaders and experiences.
This year, on-site session days brought the Youth Leadership Program students into the studios of Channel 25, the kitchen of the Breakers Hotel, down into the Kennedy bunker and aboard airboats in Grassy Waters Preserve. These talented young leaders honed skills in public speaking, interviewing and resume writing.
LPBC's Youth Leadership program is coordinated by volunteer alumni of the organization's adult leadership program and has graduated more than 575 students. The next class begins in September 2013. Incoming high school juniors interested in participating should speak with their principal or guidance counselor.
For more information about the program, or to make a tax-deductible contribution to support the scholarship fund, call Christina D'Elosua at (561) 833-4321 or visit www.leadershippbc.org.
Leadership Palm Beach County is an educational nonprofit organization designed to foster awareness of community issues and promote efficient communication and cooperative relationships between existing and emerging community leaders. Since 1983, LPBC has prepared more than 1,000 graduates for enhanced community leadership roles.
ABOVE: Youth Leadership Committee Chair Eric Hopkins with scholarship recipients (clockwise from top left): Matthew Shultz of Glades Day School, Keli Hodges of the Dreyfoos School of the Arts, Daron Imgram of Glades Central High School, Lizabeth Lohmann of Glades Day School, Jennifer McCrate of Jupiter High School, Mariah Morgenstern of Boca Raton High School, Anabel Gonzalez of John I. Leonard High School, Shelby McCleary of Palm Beach Central High School and Paola Correia of Suncoast High School.