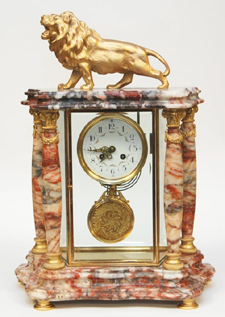 A wide selection of estate jewelry, fine artwork, bronzes, sterling silver and Chinese works will cross the auction block on Saturday, May 11 at Elite Decorative Arts, in the firm's gallery located at the Quantum Town Center in Boynton Beach (1034 Gateway Blvd., Suites 106 and 108). The auction will start promptly at 1 p.m.
The Chinese items — a category for which Elite Decorative Arts has become renowned in recent years — will feature ivory, jade, marvelous red coral carvings and stone carvings, porcelain and more. Many of the lots can be viewed online at www.eliteauction.com, and Internet bidding will be provided by LiveAuctioneers.com and Artfact.com. Phone bids will also be accepted.
Chinese carved white jade is enormously popular with collectors and this sale has several pieces certain to spark bidding wars. One is a fine-carved white jade ceremonial coupe with figural floral handles and a silver inlay wooden fitted base. The glowing translucent specimen, measuring 2.5 inches in height and weighing 197 jade grams, should sell for $30,000 to $50,000.
Another is a carved white jade relief boulder depicting a scholar's mountain scene. Like its predecessor, this lot is also a glowing translucent specimen, with russet suffusions. It is larger, however, measuring 9.75 inches in height by 7.25 inches in width, plus a wooden base height of 2.25 inches. The jade weight is 3,152 grams. The piece is estimated to command $15,000 to $25,000.
Chinese carved red coral sculpture pieces and groups are also highly collectible and will be offered in abundance in this sale. One lot certain to get paddles wagging is a stunningly carved 19th century sculpture depicting a covered urn adorned with flowers, vines, peaches and birds. It should sell for $20,000 to $30,000.
Two other red coral lots expected to do well include a fine hand-carved group depicting immortals with flying dragons and attendants, plus flowers and crashing waves, 10.5 inches tall on a fitted silver inlay base (estimated value $20,000 to $25,000); and a sculpture of Shou Xing standing with peach and dragon staff, attendants and children, on a fitted wooden base (estimated value $15,000 to $25,000).
Rounding out the star lots of the red coral category are a standing Buddha on a lotus blossom base with lilies, 11 inches tall, with a fitted wooden base (estimated value $10,000 to $15,000); and a finely carved 19th-century sculpture depicting a standing Guan Yin holding a platter with flowers, 19th century, standing 7.5 inches tall on fitted silver inlay wooden base (estimated value $10,000 to $15,000).
Hand-carved Chinese jadeite will also be offered. Lots include a blue beast group of two mythical animals shown in a playful pose, in a color emulating Ru ware, a favorite of Qing Dynasty ceramic artists, 2.5 inches tall (estimated value $10,000 to $15,000); and a jadeite meiren figure with translucent white and apple green to spinach colors, 10.25 inches in height (estimated value $8,000 to $12,000).
Moving from China to France, an early 20th-century French ormolu mounted porcelain centerpiece with hand-painted gold decoration over cobalt glaze ground and gilt bronze horses and putti mounted throughout is expected to fetch $10,000 to $12,000; and a Samuel Marti French bronze and marble mantle clock with a striking roaring lion mounted on the top and a beveled glass case housing a mechanical movement, 21 inches tall, should gavel for $8,000 to $10,000.
Wonderful estate jewelry is bound to dazzle the assembled bidders. Anticipated top lots will feature a stunning and heavy ladies 18kt yellow gold charm bracelet holding fourteen 14kt yellow gold charms, most with a golf theme (estimated value $8,000 to $12,000); and a ladies Harry Winston designer 18kt yellow gold necklace holding 3.15ctw round cut diamonds, 1.95ctw sapphire stones with featured pear cut pendant and 0.45 ctw cabochon rubies (estimated value $6,000 to $8,000).
Rounding out a short list of the day's expected top lots are a ladies 18k yellow gold and diamond Rolex Oyster Perpetual watch featuring a black face with nine set round and baguette diamonds and bezel holding 40 round cut diamonds (estimated value $6,000 to $8,000); and a pair of cut crystal Baccarat vases in the Thistle pattern, each vase having silver plate mounts and each holding the impressed Baccarat mark to the bottom of the metal base (estimated value $8,000 to $10,000).
A preview will be held Friday, May 10 from 11 a.m. to 5 p.m. and Saturday, May 11 from 11 a.m. until the first gavel comes down at 1 p.m. All purchases will be subject to a 18 percent buyer's premium (for in-house and phone bids) or 21 percent for bidding online. Elite Decorative Arts is always accepting quality consignments for future auctions. For more on this, call (561) 200-0893 or e-mail info@eliteauction.com. To learn more about Elite Decorative Arts and the May 11 auction, visit www.eliteauction.com.
ABOVE: Samuel Marti French bronze and marble mantle clock.