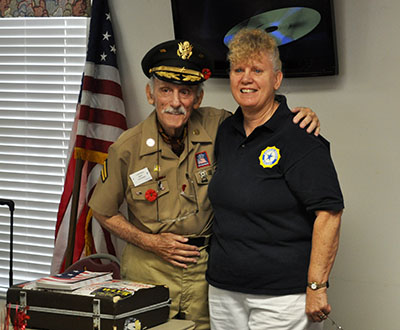 By Gabriel Sanchez
There is no better time to show patriotism like the month of May. That was the message of Cpl. Burt Richards from the Veterans Speakers Forum. Richards was the guest speaker at the May 1 meeting of the American Legion Auxiliary, Royal Palm Beach Unit 367.
At the meeting, Richards, with help from his puppet buddy G.I. Joe, discussed the patriotic May observances of Armed Forces Day, Memorial Day and the designated United Nations observance "Time of Remembrance and Reconciliation for Those Who Lost Their Lives during the Second World War."
"It's important for people to know what went on and never forget," Richards said.
During the educational session, he informed his audience of the differences in the holidays celebrated in honor of veterans, including a detailed analysis on the topic of what a veteran is. Richards routinely visits schools and has educated over 9,300 students on this crucial topic.
The day started with the Pledge of Allegiance and introductions of the American Legion Auxiliary.
Richards' talk was far-reaching, with discussions of his influence on the closing of public schools on Memorial Day to the origins of the Pledge of Allegiance.
At the end of the entertaining and informative event, all the veterans in attendance stood and announced where they served.
ABOVE: Cpl. Burt Richards with Marge Herzog of the American Legion Auxiliary, Royal Palm Beach Unit 367.