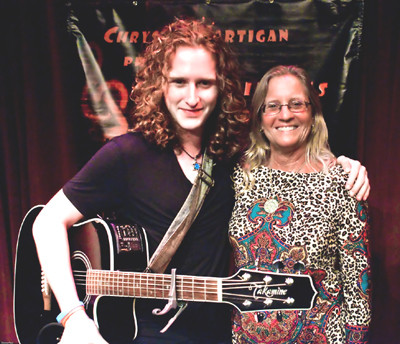 The Norton Museum of Art's weekly Art After Dark series — "where culture and entertainment meet" — is highlighting the art of songwriting this summer by featuring the popular "Chrystal Hartigan Presents: Songwriters Showcase."
Hartigan has been hosting her showcase each month at the Broward Center for the Performing Arts in Fort Lauderdale since 2008.
Art After Dark is held Thursdays from 5 to 9 p.m. at the Norton Museum. This summer, it will be free to Florida residents. The museum is offering free admission on Thursdays to Florida residents during June, July and August, and, as part of the national Blue Star Museum initiative, free admission to active military and their families now through Labor Day weekend.
Hartigan will host three "Art After Dark" showcases, each featuring a thematic lineup of songwriters "in-the-round" from 7 to 8:30 p.m. in the museum theater.
June 6 will feature female singer-songwriters, featuring Inez Barlatier; Gin Blische, formerly of Inhouse; and Charlene Chuckaree, a.k.a. "A Girl Named Chuck." Performers for future showcases will be announced later. On July 11, the theme is young singer-songwriters (male and female), ages 17 and younger, and on Aug. 1, the theme is male singer-songwriters.
A longtime promoter of the arts, Hartigan has been organizing showcases since 1996, when she was asked to help organize a "Songwriters-in-the-Round" in Miami Beach for songwriter-producer Desmond Child, who has penned hits for Bon Jovi, Cher, Aerosmith and Ricky Martin, among others. Hartigan has been presenting it at various South Florida venues ever since.
Songwriters look forward to performing because, in the words of one artist, Hartigan's showcases are "respectful of the song and the art of writing." Magic can occur when performers, who work in a variety of styles and are often strangers, add musical backing or harmonies to each other's songs when the mood strikes.
Recent performers have included American Idol contestant Brett Lowenstern of Boca Raton, and Johnne Sambataro of Cooper City, who has toured with Dave Mason and Firefall.
In addition to songwriters showcases, there are more Art After Dark offerings on the way. Art After Dark Program Manager Yael Mattan is developing a full schedule for the summer, including several programs and events.
On select evenings in June and July, the Shangri La Film Series introduces audiences to acclaimed documentary films that shed light on people from majority-Islamic nations. The series begins on June 13 with Bhutto, a film featured at the 2010 Sundance Film Festival that chronicles the life of former Pakistani Prime Minister Benazir Bhutto.
Families will have their hands full, quite literally, as the special exhibition "Block by Block: Inventing Amazing Architecture" opens June 20, featuring a play area where visitors can build using Lego bricks. In addition, special nights feature DIY (do it yourself) art projects for kids to explore creative concepts in architecture. A highlight for families will be the Aug. 8 Family Block Party Night with special guest Dan Parker, a Lego-certified professional.
Program and Volunteer Coordinator Malissa Reese, a former art teacher, hosts Sketchbook Thursdays on the third Thursday of every month. Visitors of all ages and levels of experience are invited to draw in the galleries. Reese's summer session sequence begins with an evening focusing on line drawing and proceeds through shading, color, rendering the human figure and portraying motion.
During the summer, visitors also can enjoy Curators' Conversations, discussing artworks and exhibitions with the museum's curators and educators. Also new during Art After Dark, the restaurant will be offering a selection of gourmet pizzas.
The Norton Museum of Art is a major cultural attraction in Florida, internationally known for its distinguished permanent collection featuring American art, Chinese art, contemporary art, European art and photography. The museum is located at 1451 S. Olive Ave. in West Palm Beach, and is open from 10 a.m. to 5 p.m. Tuesday, Wednesday, Friday and Saturday; 10 a.m. to 9 p.m. Thursday; and 11 a.m. to 5 p.m. Sunday. It is closed on Mondays and major holidays.
General admission is $12 for adults, $5 for students with a valid ID, and free for members and children ages 12 and under. Special group rates are available. Palm Beach County residents receive free admission the first Saturday of each month with proof of residency. To find out more about Art After Dark, call (561) 832-5196 or visit www.norton.org.
ABOVE: Brett Lowenstern & Chrystal Hartigan