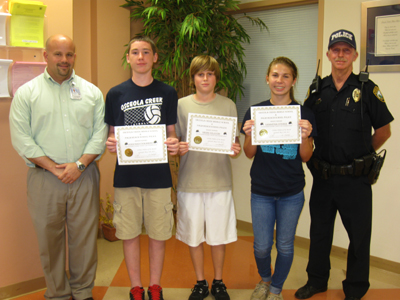 Osceola Creek Middle School recently announced its recipients of the Scholar-Athlete Award for April. The award honors varsity athletes who also excel in academics, effort, behavior and school spirit, and serve as role models.
Boys volleyball honored seventh-grader Jonathan Fioramonti.
"Jonathan has been a key player this season," coach Shayne Sanderford said. "His serving and hitting abilities have contributed to the team's offense tremendously. He stays focused and doesn't let anything get to him during the game. He's a great role model on and off the court, and it has been a pleasure having him on the team the past two years."
Fioramonti has a 5.0 grade point average, and is also a member of Osceola Creek's soccer team. He is undecided on a college, but is leaning toward either a medical or engineering career.
Boys and girls track and field honored Samantha Steiner and Shane Sullivan, both eighth-graders.
"It is with great pleasure that I nominate Samantha Steiner for Scholar Athlete of the Month," said Judy DeCosta, athletic director and girls track coach. "As a member of the Osceola Creek Middle School girls track team, she has demonstrated hard work, leadership and determination. Ms. Steiner runs in the ladies 4×100 relay, the sprint relay, the 200m dash and throws the shot put. She will qualify for the regional track meet in each of these events. Most importantly, Ms. Steiner excels academically. She currently has a 4.95 GPA and is president of the National Junior Honor Society."
Steiner, who is also a member of Osceola Creek's volleyball team, is a student council representative, and was the Female Scholar-Athlete of the Year as a seventh-grader.
"Shane Sullivan has been a member of the boys track team each of his three years at Osceola Creek," boys track coach Jay Mermelstein said. "He runs the 400 meters and is part of the 4×400 meter relay team. With his high grade point average (4.19) and performance on the field, Shane has earned the title of Scholar Athlete."
Sullivan, 13, is a member of the Fishing Club and desires a career as a marine biologist.
Supporting the program are Subway, Domino's Pizza and Burger King, located at Seminole Pratt Whitney Road and Orange Blvd., and Dairy Queen at Royal Palm Beach and Okeechobee boulevards, which donated free food coupons.
ABOVE: Principal Dan Frank, Jonathan Fioramonti, Shane Sullivan, Samantha Steiner and Officer Sandy Molenda.