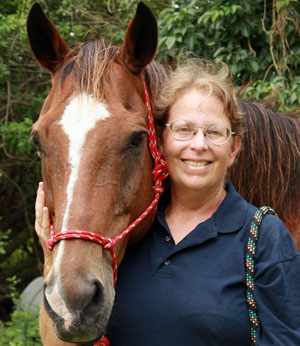 TAILS FROM THE TRAILS
The horse community is a small world. When I sat down with Claudia Campbell at her comfortable farm in Loxahatchee, we started talking about old times and stables far, far away. Turns out we both attended C.W. Post College, part of Long Island University, in Brookville, N.Y., and had ridden at many of the same stables. Campbell also taught riding at some of them before meeting and marrying a polo player who talked her into moving to Wellington in 1997.
Campbell kept teaching riding, first for Helen Varble at Wellington Show Stables for seven years, and then from her home. Now a single mother of two young daughters, ages 7 and 9, Campbell hosts Pony Camp for children ages 4 through 12.
"I know how it is to be a busy mom," she said. "Time is an issue. If you have a horse-crazy kid, you don't always have the time to bring them somewhere for riding lessons during the week. I started this program in 2004 for moms like me."
Campbell usually holds Pony Camp a couple of times a month on Sundays from 9 a.m. to noon year-round. Students are welcome to attend one or all sessions, and the cost is a very reasonable $55. Parents are welcome to stay and watch. She accepts up to 12 children at a time.
"The children are divided into two groups, and each camper is assigned a horse or pony based on riding experience," Campbell explained. "I make sure there are lots of counselors and lots of close supervision at all times. While one group grooms and rides, the other group works with the four miniature horses. They might give them a bubble bath, finger paint them, or play games with them. Then the two groups switch."
That generally takes the first two hours. Then it is snacktime. "All the kids bring along a snack or light lunch. Then we have a 20-minute bareback ride, which usually involves a game like red light-green light. Again, it's all closely supervised, and beginners are led around on a lead line. We also teach grooming and basic horsemanship," Campbell said. "Safety always comes first. I'm fully insured. I own 15 horses and ponies, and use seven in the camp. They're all quiet, kid-tested and mother-approved," she laughed. "They're not that fancy, but they're perfect ponies. My kids grew up riding these ponies. We cater to each rider."
Kristen Campagnuolo's two daughters attend Pony Camp even though they own ponies of their own.
"My 7-year-old has been going for two years," Campagnuolo said. "My 4-year-old has just started. They love it. It's like all the kids get together for a big pony play day. Claudia's ponies are very safe, quiet and easy. My daughter has had some issues cantering her own pony, but she loves cantering Claudia's."
Campagnuolo has known Campbell for years. "I used to take lessons from Claudia when she worked at the Wellington stable," she said. "Her farm's a friendly environment. She teaches the kids a lot of horsemanship skills. It's not just riding the pony and walking away. I definitely, absolutely recommend her Pony Camp for any kids who have an interest in horses."
Shanan Maisano's 6-year-old daughter also attends. "She loves it," Maisano said. "It's a lot of fun. She has been going for two years, and she has learned a lot. I'm quite comfortable with Claudia. She makes sure the kids are safe. I like how accommodating she is. You can attend once in a while or all the time, whatever works best for you."
Finnley Senese, 12, started going last year.
"I heard about it from a friend who raved about it," Senese said. "I've done a lot of riding, but Pony Camp is great. Claudia's really friendly and she teaches us a lot of new things. I also like helping the younger kids learn to groom and ride. Kids definitely learn a lot there, even if they don't know anything about horses. I like everything there."
Campbell invites all interested horse families to give it a try.
"Pony Camp is a nice opportunity for kids to learn about horses, have fun, and stay safe," she said. "It's a great place for children who have a passion for horses, whether they're rank beginners or experienced riders."
For more information, call Campbell at (561) 315-9516, or visit www.delmarfarm.net.