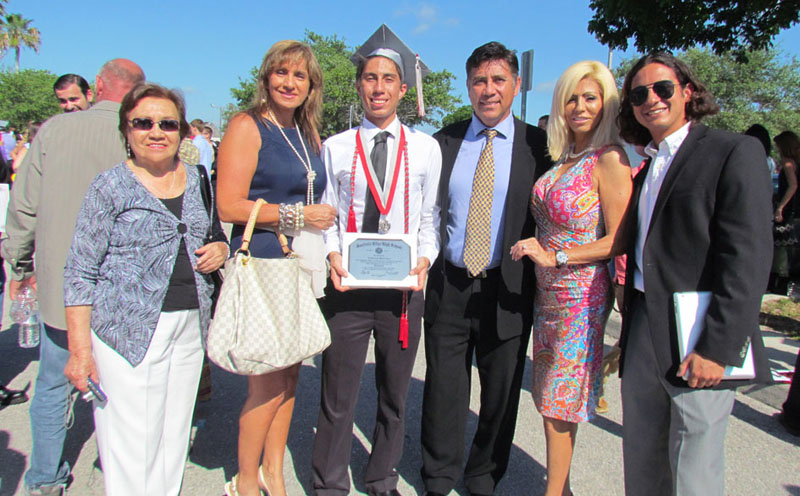 The 549 members of Seminole Ridge High School's Class of 2013 walked across the stage to receive their diplomas at a commencement ceremony held Thursday, May 23 at the South Florida Fairgrounds.
VIDEO: Slideshow of SRHS Grad Photos
School District of Palm Beach County Superintendent E. Wayne Gent asked teachers, parents, friends and family to congratulate the new graduates on their achievements. "Commitment of completion requires both tenacity and perseverance," he said.
Gent told the graduates that the day is not only a time for celebration, but for a new beginning. "It's a time for reflection, for decision making, but most importantly, it's a time for action," he said. "It's also a time to look for opportunity that will affect you for the rest of your life."
Student Government Association President Madison Harding reminded students of the high school years gone by. "When we were freshmen, the Hawks football team brought home the trophy after beating Royal Palm Beach for the very first time," she recalled.
Harding encouraged students to remember all the memories shared in high school. "We need to remember the relationships we had together because these memories will keep us together forever," she said. "Not only the big moments, but the small ones, too, like walking to class in the courtyard with friends or pretending to read during BookIt."
Salutatorian Andrea Olave urged her fellow graduates to enjoy life by quoting Indian spiritual leader Sai Baba. "Life is a song — sing it. Life is a game — play it. Life is a challenge — meet it. Life is a dream — realize it. Life is a sacrifice — offer it. Life is love — enjoy it," she said.
Valedictorian Ryan Meingasner said the past 13 years have been a time to think about the future. He said that all their years of work do not determine the outcome of their successes in the future. "That 'A' in math class does not necessarily get you to become an engineer overnight," he said. "Just the same, the 'D' is not going to wreck you."
Meingasner said all the graduates are intelligent in their own way. "You may not be a star athlete or a scientific genius," he said. "But you will certainly find a field where you will undoubtedly be on your way to master."
It's up to each individual to seek out what they are good at, he said, "And thrive, because it's your time to shine."
Meingasner continued by sharing a few rules with the graduates. "You cannot undo the things you have already done for yourself," he said. "As you go through life, know that nothing is owed to you and the only thing that you are entitled to was the education you received… You have truly been given an amazing thing. Please use it wisely."
Principal James Campbell explained the importance of graduation. "It's one of the most significant events in anyone's life," he said. "Everyone in this room has come here to show you how proud they are of you."
Campbell recalled the goals he shared with them at the beginning of the school year. "At our first week in September, I told you that my main goal was to see all of you walk across that stage to receive your diploma," he said. "Now here we are, only a few minutes from witnessing that goal."
Campbell recognized parents and teachers for their support and encouragement. "They worked for you, encouraged you and take pride in you today," he said. "Even your teachers and guidance counselors need to please stand and be recognized for all you have done."
Graduation is one of the best times of the year, Campbell continued, because it recognizes students for their achievements throughout the years. "For students who have struggled academically, or even admittedly have not put their best foot forward, it's encouraging to see these students receive these awards and reach these goals," he said.
Campbell urged students to keep in mind the true meaning of graduation. "Although graduation represents the end of one phase of your lives, it's also the beginning of another," he said.
Campbell concluded by quoting American philosopher John Dewey. "Arriving at one goal is the starting point to another," he said. "A new phase of your life is starting tomorrow. Whether you're heading off to college, starting in the workplace or joining the military, focus on the opportunities that lay ahead of you."