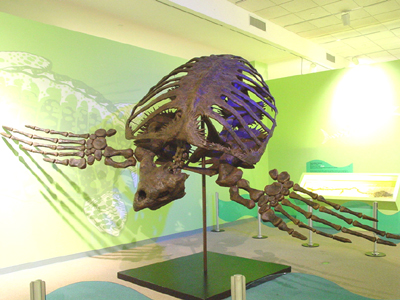 The Cultural Council of Palm Beach County invites the community to enjoy a fun variety of family-friendly activities, venues and locales taking place all over the county and discover why Palm Beach County is "Florida's cultural capital."
With a colorful and diverse array of arts and cultural activities, offerings and fun, there's sure to be something for families of varying age, taste and budget. Check out happening events on tap, visit web sites and even purchase tickets at www.artscalendar.com/thepalmbeaches.
It's all about "outdoor Florida" on the south end of Palm Beach County at Gumbo Limbo Nature Center. Nestled along AIA in Boca Raton, this venue offers visitors an expansive outdoor nature center with its sea turtle garden, container garden of herbs and local flora, gopher tortoise exhibit and a butterfly nursery. Nature Craft for Father's Day is scheduled for Saturday, June 15 from 11 a.m. to noon for ages 7 to 12. RSVP to (561) 544-8615.
Enjoy live theater by taking the family for a "peek under the sea" through the eyes of the Sol Children Theatre Troupe's musical play adaptation of Disney's Broadway production The Little Mermaid Jr. July 4-5 at the Olympic Heights High School Performing Arts Theater in Boca Raton. Call (561) 447-8829 for more information.
Just north of Boca Raton in the heart of downtown Delray Beach, visitors will find the charming and whimsical Puppetry Arts Center of the Palm Beaches. Robin Hood, by master puppeteer Jerry Bickel with the Bits 'N' Pieces Marionettes, continues Friday and Saturday, May 17 and 18. Show times are 10:30 a.m. Friday and 2 p.m. Saturday. Call (561) 243-4330 or visit www.puppetcenter.org for more information.
A short walk from the Puppetry Arts Center finds Arts Garage, home of jazz, blues, big band, live theater, comedy and more. Dance in your seats to the popular family musical Footloose May 16-19. Table reservations are available; show times vary. For more information, call (561) 450-6357 or e-mail info@artsgarage.org.
On the western end of Delray Beach, visitors can experience the magical and serene setting of the Morikami Museum & Japanese Gardens. This year, its annual Sushi and Stroll event offers several dates and themes to enjoy. The Morikami will host the evening event "Sip & Stroll: An All-About-Sake" on Friday, June 7 from 5:30 to 8:30 p.m. Enjoy a unique selection of sake and menu items from the Cornell Café and learn all about the appeal of this age-old Japanese spirit. For more information, visit www.morikami.org.
Nature enthusiasts can also enjoy a visit to the Sandoway House Nature Center, found along AIA in northern Delray Beach. Sandoway is home to the largest private collection of shells in southeast Florida with 10,000 museum-quality shells on display. Shark feeding anyone? Plan to arrive at 1:30 p.m. sharp Tuesday through Sunday to participate in this thrilling local favorite. If getting your toes in the sand is more your thing, sign up for its May 25 beach walk, taking place from 11 a.m. to noon. For more information, visit www.sandowayhouse.org.
For those who like to shop until they drop, explore artsy and trendy Lake Avenue in downtown Lake Worth. At the corner of Lake Avenue and L Street, visitors will not want to miss stopping in at the Cultural Council of Palm Beach County to find over 1,200 artist-created items for sale in its Uniquely Palm Beach Store. While there, check out its exhibitions by Palm Beach County artists: "Artist as Author" through May 18 and "County Contemporary: All Media Juried Show" June 14 through Sept. 7. At the Cultural Council's Cultural Information Center, take advantage of utilizing its interactive, touch-screen Explore Board to peruse arts and cultural venues. Guests can also pick up brochures, event calendars, maps, a copy of art&culture magazine, and fill your day book or extended stay itinerary with destination stops sure to fulfill your quest for exciting arts and cultural happenings fun for the entire family. For more information, visit www.palmbeachculture.com.
Heading north to the Kravis Center for the Performing Arts in downtown West Palm Beach, Palm Beach County's world-class community youth choir, the Young Singers of the Palm Beaches, will present "Ubuntu," a special 10th anniversary performance at the annual spring concert Sunday, May 19 at 7 p.m. This award-winning community chorus features 350 of the area's top, talented youth voices. For more information, call (561) 832-SHOW or visit www.kravis.org.
A constant nearby draw for visitors of all ages is the Palm Beach Zoo, with exciting and educational encounters available to help you get to know some of the county's resident animals. Daily Keeper Talks and informative feeding and enrichment events give visitors an up close and personal look into topics such as what makes tigers so "chuffed" (happy), how alligators and pelicans eat, and what monkeys like to do when they "monkey around." The zoo is open from 9 a.m. to 5 p.m. daily. For more information, visit www.palmbeachzoo.org.
Hop across the street to see what's happening at the newly expanded South Florida Science Center & Aquarium, formerly known as the South Florida Science Museum. Celebrate with fun, interactive science at its Community Opening Day on Friday, June 7 from 10 a.m. to 5 p.m. Admission is free. Experience the first blockbuster exhibit to fill the newly opened exhibit hall, "Savage Ancient Seas: Dinosaurs of the Deep." For more information, visit www.sfsm.org.
Have a budding artist in the family? On the first Saturday of each month, the Armory Art Center in West Palm Beach offers "Art on the Go!" for children in kindergarten to fifth grade. These art workshops are designed just for kids. Dates vary; RSVP at www.armoryart.org.
It's well-known that the acclaimed Norton Museum of Art in downtown West Palm Beach has permanent collections and exhibitions of masterpiece works of art year-round, but did you know it also offers family-friendly, hands-on activities for kids of all ages? On Thursday, June 20, the museum invites guests to "Be a Lego Architect." Begin in the classroom and learn about types of buildings. Next, participants draw designs and take plans to the Lego building activity area to construct it in 3-D on a special city map. Are you a Florida resident planning a staycation? The Norton offers free admission every Thursday for Florida residents in June, July and August and free admission to Palm Beach County residents every Saturday from June 1 through Aug. 3. For more information, visit www.norton.org.
Nearby, along the Intracoastal Waterway, is the serene and tranquil Ann Norton Sculpture Gardens. Gain rare insight into the life's work of American sculptor Ann Weaver Norton by exploring her studio, gardens and historic home. The vast, meticulously landscaped property is adorned with Norton's monumental sculptures. Hours are 10 a.m. to 4 p.m. Wednesday through Sunday. The sculpture gardens are closed in August. For more information, visit www.ansg.org.
A natural, outdoor setting that invites guests to set their own pace and explore nearly three acres of striking sculpture and native landscape is the Society of the Four Arts in Palm Beach. The gardens are open seven days a week from 10 a.m. to 5 p.m., and there is no charge for admission. To learn more, visit www. fourarts.org/gardens.
North Palm Beach is home to the beautiful, tucked away John D. MacArthur Beach State Park. Learn about the park's ecosystems and history with an array of events. Enjoy a butterfly walk Saturday, May 25 from 11 a.m. to noon, and daily nature walks at 10 a.m. (10 a.m. and 2 p.m. on Saturdays), which are free with park admission. Guided two-hour kayak tours occur daily at high tide. Turtle walks are held May 28 through July 19 with RSVP required. Turtle walk hours are 8 to 11 p.m. or later, depending on the turtles. For additional information, call (561) 624-6952.
North on U.S. 1 is Juno Beach's Loggerhead MarineLife Center, filled with nature-based exhibitions to explore and a state-of-the-art turtle rehabilitation center. Each Wednesday at 10:30 a.m., children under 5 can bring their own "hatchlings" to share and enjoy ocean-inspired stories, crafts and more with Hatchling Tales story time. Enjoy books, music and group activities for free. Celebrate World Oceans Day at Loggerhead on June 8 from 10 a.m. to 3 p.m. to honor the body of water that links us all and to learn ways we can all generate awareness about conserving and protecting our world's oceans. Admission is free. Visit www.marinelife.org for more information.
Admission to the Cultural Council is free and open to the public Tuesdays through Saturdays, 10 a.m. to 5 p.m.
For more information, visit www.palmbeachculture.com.
ABOVE: Kids and adults alike will gasp in awe at Archelon, a 17-foot-wide sea turtle on display as part of the South Florida Science Center and Aquarium's newest traveling exhibit "Savage Ancient Seas: The Ancient Aquatic Deep," opening to the public Friday, May 17.