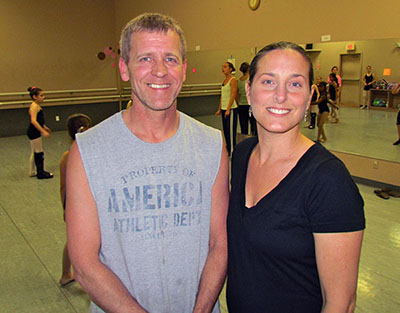 In an effort to enhance culture in the western communities, Wellington Ballet Theatre is providing professional ballet hopefuls an opportunity to enrich their talents.
Wrapping up its first operational year, the young nonprofit offers skilled training, performance opportunities and career advancement for ballet dancers.
The group is the brainchild of Wellington's Dance Arts Conservatory owners Rocky and Dorie Duvall, who saw the need for a community ballet theater.
"There's a good, talented pool of dancers here in the western communities at several different dance studios," Rocky Duvall said. "We wanted to offer performance opportunities to anybody who wanted to participate."
Even if a dancer is based at another dance studio, he or she can audition to be part of the performances that Wellington Ballet Theatre puts together throughout the year at venues such as the Wellington Amphitheater, the International Polo Club Palm Beach and Palm Beach Central High School.
"They can be from any dance studio and don't have to sign up with Dance Arts Conservatory, which is a separate entity," Duvall said. "They just have to participate in Wellington Ballet Theatre."
Instructions are held at Dance Arts Conservatory on Fortune Way off Pierson Road, although the Duvalls hope to one day find Wellington Ballet Theatre its own performance space.
Until then, the Duvalls have made it their mission to get Wellington Ballet Theatre off the ground and to become a staple in the community.
"At first we started with very minimal funds from private donors and our families," Duvall said. "We also received a lot of support from the Village of Wellington by letting us use the amphitheater for performances."
Still in its infancy, the ballet company has a long way to go. "We are trying to build up our repertoire so that we can present to donors and say, 'Here, look at what we have done,'" Duvall said.
Over the past year, Wellington Ballet Theatre has put on three seasonal performances — fall, winter and spring showcases. Some notable performances include A Nutcracker Tea and A Midsummer Night's Dream.
The organization caters to pre-professional ballet dancers, meaning they have to have a certain level of skill. If they are not on the appropriate level, the theater offers classes at four different skill levels to train them: trainees, apprentice, corps de ballet and company.
"If you are in a trainee or apprentice level, you have to take the class that's associated with the performance," Duvall said. "The classes are part of our dance programming side, and dancers must pay for the instruction."
For performances, dancers don't have to pay for costumes or rental fees. "We try to keep the price and cost down as much as possible for our students and families by raising funds locally through corporate sponsorships and donations," he said.
As of now, the most important goal for Wellington Ballet Theatre is getting its own location. "We don't have a location for it yet, and we want to get it out of the Dance Arts Conservatory so it can really be in the hands of the community," Duvall said.
It's pricey for a new nonprofit, and even many of the established dance studios, to rent space at existing theaters. "Especially the high school auditoriums, which is where we typically perform," he said, adding that they are prohibitively expensive. "They don't cater to us at all, and the houses are 800 to 1,000 seats. It's really hard to fill that."
With Wellington Ballet Theatre in its own venue, Duvall hopes to enrich culture in the western communities.
"We are not here to just fly by night," Duvall said. "The money is going right back into the community. We are here to present the opportunity for kids and young adults to do what they love."
The Wellington Ballet Theatre's next performances will be its Spring Dance Concert featuring the music of George Winston on May 10 and 11 at 7:30 p.m. at the Wellington Amphitheater. Other planned performances are Ballet Off-Broadway in September and The Nutcracker in December.
The upcoming May performances are free and open to the public, with VIP seating available for $10. For more information, visit www.wellingtonballettheatre.org or call (561) 296-1880.
ABOVE: Wellington Ballet Theatre founders Rocky and Dorie Duvall.