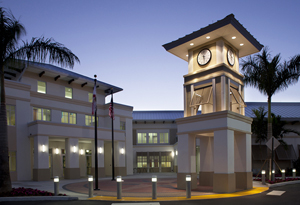 Wellington expanded its senior transportation program this month, allowing senior citizens to catch a ride to more locations throughout Wellington.
"We're removing some of the restrictions on where seniors can go," Director of Community Services Nicole Evangelista said. "They can still only go within the Wellington boundaries, but we're not restricting them to certain places."
Previously, rides were provided only to local medical offices and hospitals, pharmacies, religious institutions and food markets.
The senior transportation program began in 2010 as a way to help seniors who are unable to drive, or who do not want to drive, to get around town. The village partners with Wellington Cab to give seniors monthly vouchers that can be used for door-to-door service.
Seniors pay $4 a ride, and Wellington picks up the remaining $14, which is partially funded through a grant. "For the most part, people use [the vouchers] to get groceries or go to doctor's offices, but now they can go anywhere," Evangelista said.
When surveyed, the top request of senior residents was expanding the program to allow more stops. "We want to encourage ridership," Evangelista said. "We thought this would provide more opportunities for seniors wanting to use the program."
The vouchers are distributed through the Neighborhood Services Office, and seniors can request up to eight a month.
"The goal is to provide safe transportation for our seniors," she said. "We also want to provide engagement in the community. We want them to be able to attend community events."
The program is open to all Wellington seniors 60 and older, and there is no deadline to request the monthly vouchers, Evangelista said.
"We want to provide this service to everyone who needs it," she added.
For more information, or to request vouchers, call Neighborhood Advocate Scott Campbell at (561) 791-4105.