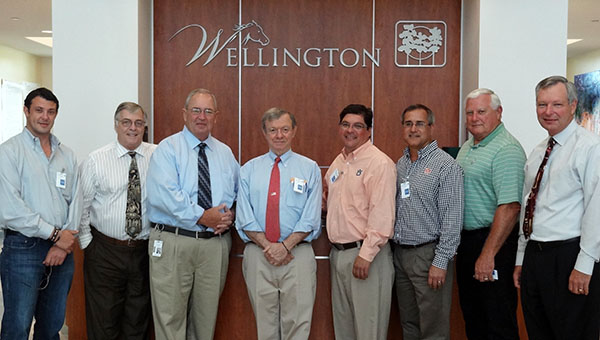 The development team for the proposed Palm Beach Horse Park, in coordination with the Wellington staff, hosted representatives from Auburn University on Wednesday, May 8 for a tour of Wellington's equestrian community.
The K-Park site in Wellington, located on the corner of Stribling Way and State Road 7, is the proposed site for a new, world-class equestrian complex with a focus on quarter horses and western riding.
The Palm Beach Horse Park on the K-Park property is designed to supplement the existing equestrian scene, and also provide venues for the use of the broader community. With its spotlight on quarter horses, the park introduces a new element to Wellington's equestrian community. The plans include an enclosed, climate-controlled stadium, a number of indoor and outdoor show rings, a supporting commercial district, a hotel, a veterinary instructional facility and a riding school.
The May 8 meeting was the third time that representatives from Auburn University and its veterinary school visited Wellington to discuss the partnership possibilities that the creation of the Palm Beach Horse Park offers. By partnering with a prominent university and veterinary school such as Auburn, the Palm Beach Horse Park could become home to a leading veterinary instructional facility, serving as a satellite to Auburn's existing programs.
"The creation of a satellite veterinary instructional facility would enable us to host industry-leading professors and interning students, offer a program to introduce local students to veterinary science, and house equine operating rooms, pre-op and post-op locations, a research and development department, and even a quarantine facility," explained Wellington businessman Jack Van Dell, one of the leaders of the Palm Beach Horse Park's development team.
The Palm Beach Horse Park development team and the group from Auburn are excited about the project's plans and proposed development.
"This was their third time coming down here to Florida to discuss the project," Van Dell said. "Being able to partner with a university like Auburn to establish a satellite veterinary teaching and R&D facility at our horse park would be fabulous."
Van Dell added that it would enhance the equestrian and non-equestrian benefits to the community and further increase Wellington's premier position in the equestrian world.
For information about the Palm Beach Horse Park, contact Jack Van Dell at (561) 333-3100 or palmbeachhorsepark@gmail.com.
ABOVE: Representatives from Wellington, Auburn University and the Palm Beach Horse Park development team: (L-R) Alexander Van Dell, Bob Basehart, Paul Schofield, Jack Van Dell, Dana Marquez, coach Greg Williams, Marrell Jerkins and Mike O'Dell.