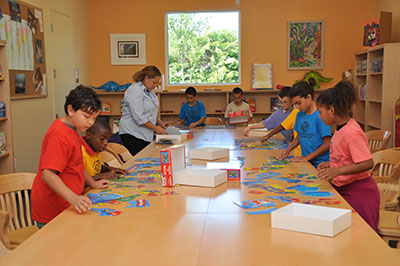 With summer fast approaching, Wellington is making sure some of its neediest kids have a safe place to stay while their parents work.
To help families in need when school is out, the village is offering a scholarship program for children to attend summer camp at the new Neil S. Hirsch Family Boys & Girls Club.
"Wellington is committed to youth outreach, and with summer around the corner, this is a great opportunity," Wellington Community Services Director Nicole Evangelista said. "The Boys & Girls Club is now in the perfect location for our neighborhood children, and is able to provide a place for children to go this summer so they aren't home alone."
The Recreation and Education Activities for Children (REACH) summer scholarship program is available to Wellington residents with children ages 6 through 18 who want to attend the Boys & Girls Club summer camp.
The deadline to apply is Wednesday, May 22. Applications are available online at www.wellingtonfl.gov or by calling the Neighborhood Services Office at (561) 791-4796.
Now in a new location, the Boys & Girls Club has a great facility to accommodate children of almost any age, including teenagers, Evangelista said. "It's a really cool facility," she said. "There will be a lot for them to do."
Eligibility for the scholarships is determined by income, she said. The application guidelines require that applicants make a maximum of $38,550 to $72,700 depending on the number of people in the home.
"This scholarship in particular helps those children who don't otherwise have the funds to be able to attend," Evangelista said. "It's to help make sure they have something to do during the summer."
Wellington is using $9,320 of its Community Development Block Grant funds for the scholarships, meaning no taxpayer money is used, other than staff time.
"Applicants are eligible to receive up to $1,000 per child," Evangelista said. "The funds would at most go toward nine full rides, but some households may not require the full amount."
The scholarships will be paid directly to the Boys & Girls Club on behalf of the chosen applicants, she said.
"We hope to promote community development, and this is one of the tools we can use," Evangelista said. "We encourage families to apply so that their children have a safe, fun place to go this summer."
Applications will be randomly drawn on Thursday, May 23, and recipients will be notified shortly thereafter.
For more information, visit www.wellingtonfl.gov or call (561) 791-4796.