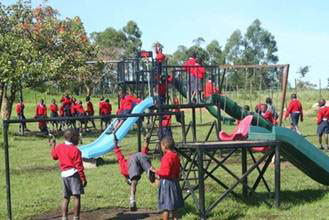 Used playground equipment from Wellington has found a new home in Migori, Kenya.
Last year, Wellington's Tiger Shark Cove Park was renovated and new playground structures were installed.
Prior to the reconstruction, Wellington was contacted by Alex DeLange, who had read an article about the upcoming renovation project and requested that the used equipment be donated to KenyaRelief.org.
"American children are blessed to be able to enjoy state-of-the-art recreational areas, but in Africa, our old is new," DeLange said.
KenyaRelief.org partners with Kenyans to provide such things as medical assistance, supplies, education and vocational training.
Wellington was delighted to provide the equipment to the children. Parks & Recreation Director Bruce DeLaney cooperated with DeLange to arrange for the equipment to be shipped via cargo container and installed near an orphanage in Migori.
"Wellington is proud to be able to repurpose our equipment to provide recreational opportunities for the children in Kenya," DeLaney said.
Wellington officials recently received photos of Kenyan children playing on their "new" equipment and were very pleased to see the items going to good use.
ABOVE: Children in Migori, Kenya enjoy the playground equipment from Wellington. It was formerly part of the playground at Tiger Shark Cove Park.