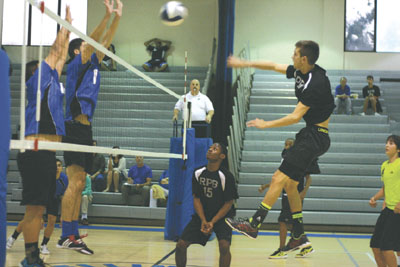 The Wellington High School boys varsity volleyball team defeated Royal Palm Beach High School in three games Thursday, April 25. Playing in Wellington, the Wolverines went 25-6, 25-22 and 25-12 to take down the Wildcats.
Though Royal Palm Beach fought back in the second match for a near win, the Wolverines pulled out the victory and kept up the momentum to claim the contest.
Wellington got out to an early lead in the first match, blazing over the Wildcats, who only managed to get six points in. Spikes from Arthur Strapazzon broke through the Royal Palm Beach defense to aid the Wolverines to a quick win.
But the second match saw the Wildcats rally to put some points on the board. Though Wellington took an early lead again, jumping out by about 10 points, Royal Palm Beach banded together and managed to bring the score to 13-10 on a streak of points. They kept the momentum up, but Wellington managed to keep a one-point or two-point lead to take the match 25-22.
In the third match, the Wildcats let the win slip away when Wellington got a 10-point lead and ran with it. Royal Palm Beach put away 12 points in the match, but it wasn't enough to keep up.
Wellington faced crosstown rival Palm Beach Central High School on Tuesday in the district tournament at Park Vista High School, falling to the Broncos in four matches.
ABOVE: Devin Wallace sends a spike at the Wolverine blockers.