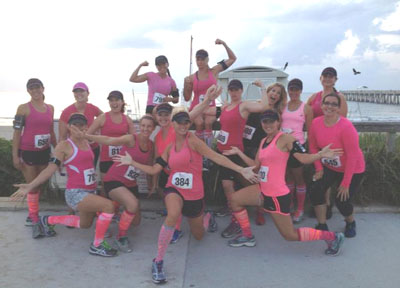 The third annual Women for Women 5K/10K was held Saturday, May 18 beginning at the new Lake Worth Casino. This women's-only race has grown each year and is currently the only all-women's race in South Florida.
This year it was 1,000 runners strong. The race started at the new Lake Worth Casino beachfront at 7 a.m. to the roar of cheering family and friends. The women ran over the Lake Worth bridge and around Lake Worth before coming back over the bridge and finishing back at the beachfront.
The race benefits Girls on the Run, a mentoring program for girls ages 8 to 13 in Palm Beach County, and the Palms West Community Foundation. The race was started two years ago to give back to the community and was supported by the Lake Worth Chamber of Commerce. The new Central Palm Beach County Chamber has now taken on that role. Organizers thank all the volunteers, sponsors and runners who supported the successful event.
ABOVE: These women from the western communities call themselves Moms Fit for Fun.