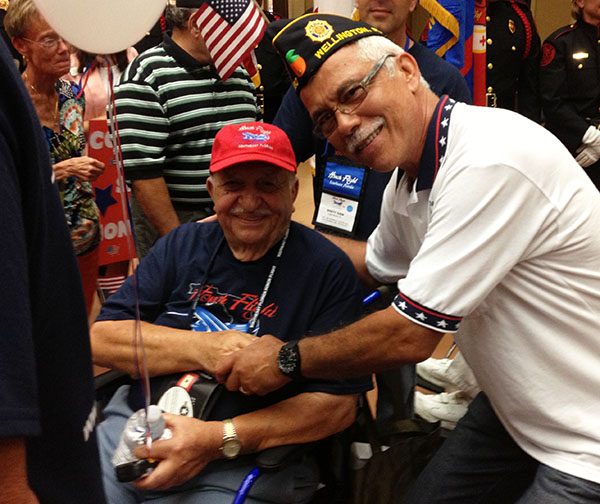 BY ALEXANDRA ANTONOPOULOS
Monday, May 27 is Memorial Day, and as America pauses to honor the memory of its fallen soldiers, World War II veteran Angelo Cona will remember the bravery of the men with whom he served in the United States Marine Corps more than 65 years ago.
Cona, an 86-year-old veteran who lives in suburban Lake Worth, can hardly express the emotions that flood his mind while he reflects on his time in the service. "Memorial Day, to me, means a lot," he said.
When Cona was drafted in 1945, he was only 18 years old. Like many of his contemporaries who would also serve in the U.S. military, Cona was both excited and nervous about the journey that he was about to embark upon.
"I didn't know anything then. What do you know when you're 18?" Cona said of his entrance into the service.
After training, Cona was sent overseas almost immediately. He received orders to leave the United States on Dec. 7, 1945, and spent 30 days at sea, making several stops — one at the Panama Canal and a second in Pearl Harbor, where the troops spent one week before reaching their final destination. Cona was stationed in northern China and charged with guarding the military prisons, which held Japanese soldiers who had been caught and detained by the U.S.
Cona recalled an incident that he chuckles at now, during a time very early into his service when he attempted to carry out orders with little success. "I had to give orders to a Japanese prisoner to help clean up the camp, but he didn't understand me," Cona said.
The prisoner, whom Cona assumed to speak Japanese but not any English, only stared blankly at Cona when he asked him to clean. Finally, a frustrated Cona went to his superiors and explained the situation, hoping that they would have better luck communicating with the prisoner.
"I listened to their conversation, and he spoke better English than me!" Cona said. "Apparently, he was a major in the Japanese army, which is a very high rank — comparable to our general — but I didn't know that at the time."
After 10 months in China, Cona came home in October 1946 and returned to his native Long Island, N.Y., where he served as a volunteer firefighter, raised his family and got into the landscaping business. He now lives in suburban Lake Worth with his wife, Rosemary, and lives to honor the memory of those soldiers who lost their lives during WWII.
One of those fallen soldiers is Cona's own cousin, also named Angelo, who died in combat at Iwo Jima in 1945. "I think of my cousin a lot," Cona said.
As a Marine veteran and a member of the Chris Reyka Memorial Post 390 of the American Legion in Wellington, Cona was recommended for the Honor Flight, which he took part in last month, partly for the experience and also in memory of his cousin.
The Honor Flight provided 84 WWII veterans with a day trip to Washington, D.C., where they toured the city and, most especially, remembered their fallen comrades at Arlington National Cemetery. "It was the greatest thing for me to go there. I wish I could go again," Cona said of the Honor Flight.
Cona said that in that crowd there were adults and children, and that he was surprised at how many children were part of the group that greeted them at Palm Beach International Airport.
"The best thing about the trip is where the money comes from — from children in school. They go out collecting… What a great experience," he said. "When we got off the flight in Washington, I never expected to see so many people. There were close to a thousand waiting for us. And when we returned home, there were another thousand."
The Honor Flight is just one of the ways in which the memory of Cona's cousin has inspired him. On this Memorial Day, he will observe the holiday in his cousin Angelo's honor, and he hopes that others will continue to be inspired by all veterans, regardless of which war they fought in.
Cona explained that he would like to know that the importance of Memorial Day will not be forgotten and that the gravity of the holiday is instilled in children. He feels that if they are encouraged to discuss what Memorial Day means to them, the memory of those fallen soldiers will indeed be honored.
Wellington will honor Memorial Day with a parade and ceremony Monday starting at 8:15 a.m. at the Wellington Municipal Complex and continuing down Forest Hill Blvd. to the Wellington Veterans Memorial, where the ceremony begins at 8:30 a.m.
Royal Palm Beach will hold its Memorial Day observance Monday at 9 a.m. at the Veterans Park amphitheater on Royal Palm Beach Blvd. featuring a flag-raising ceremony, motivational presentations, free refreshments and a musical performance.
ABOVE: World War II veteran Angelo Cona (seated left) with Jim Napuli of the American Legion Chris Reyka Memorial Post 390 during last month's Honor Flight to Washington, D.C.