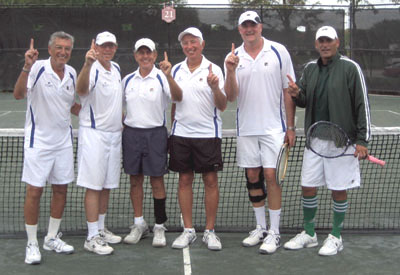 The large trophy that sits in the Wycliffe Golf & Country Club's Tennis Pro Shop is more than indicative of their competitive tennis nature in South Florida. Wycliffe's men's team has won first place in the 2013 French Open Division I of the Palm Beach County Grand Slam Tennis League.
There are approximately 1,000 players in this league, which has existed for 15 years.
The Wycliffe Tennis Department is led by national champion Kam Kuchta. His most recent win was the 2012 National Clay Court Championship for the Men's 35 singles.
"Wycliffe's tennis teams have come close in the past few years, but this year was the year to become champs," Kuchta said.
Wycliffe has an energetic and fun tennis community and is very active in the competitive tennis arena in Palm Beach County.
Besides the Palm Beach County Grand Slam League, the club's members compete in the Palm Beach County Women's Claymates League and the Palm Beach County Senior Men and Women's Leagues.
The Wycliffe community congratulates the French Open Division 1 team members for bringing the championship home. The players are Neal Gottfried, Ron Halperin, Ivan Cohen, Howie Field, Mike Molack, Steve Seligman, Arthur Spector and Irwin Tarlow.
For more about the Wycliffe Golf & Country Club, call Cheryl Loder or Carol Masters at (561) 964-9200 or visit www.wycliffecc.com. Contact Wycliffe's preferred Realtor Risë Siegrist at (561) 889-6873.
ABOVE: Wycliffe French Open Division 1 team members celebrate their big victory.