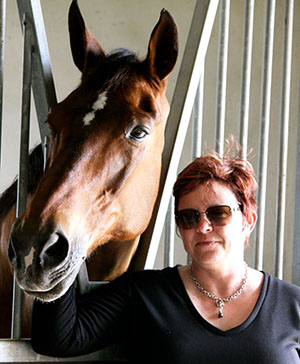 Legions of readers are eagerly awaiting the next steps of author Tami Hoag's Minneapolis investigators, Sam Kovac and Nikki Liska.
Her latest mystery novel, The 9th Girl, was released June 19. It will be followed by the June 25 ShowChic ShopTalk event in Wellington, which will feature the 16-time New York Times best-selling author discussing her inspirations and how she works spine-tingling murder cases into works of literature.
The 9th Girl opens on a frigid New Year's Eve in Minneapolis, when a young woman's brutalized body falls from the trunk of a car into the path of oncoming traffic.
Questions as to whether she was alive or dead when she hit the icy pavement result in her macabre nickname, Zombie Doe.
Unidentifiable, she is the ninth nameless female victim of the year, and homicide detectives Kovac and Liska are charged with not only finding out who Zombie Doe is, but who in her life hated her enough to destroy her.
Uncover the mystery behind great mystery story-writing when ShowChic hosts the author and avid dressage rider, during a ShopTalk event Tuesday, June 25 from 6:30 to 8 p.m.
"Please, arrive early and join us for the fun and door prizes," ShowChic's Michele Hundt said. "It's an irresistible evening of talking horses, mystery and of course, stylish shopping for the latest equestrian fashions!"
Hoag's fans know she is devoted to her own dressage horses, and began her writing and riding career at age 9, with a self-published, self-illustrated third-grade bestseller, Black Pony, about two children sharing a pony named Smoky.
With more than a dozen consecutive New York Times bestsellers, including Deeper Than the Dead, Secrets to the Grave and Prior Bad Acts, Hoag has more than 35 million books in print, published in more than 20 languages.
Her first thriller, Night Sins, was made into a mini-series in 1997, which continues to air on cable networks.
Hosting this author and equestrienne is just one of the many ways that ShowChic seeks to lives up to its credo, "putting the rider in first place."
ShowChic Dressage is proud to host ShopTalk evenings so lovers of horses and the equestrian lifestyle can relax on common ground in a casual, fun atmosphere.
"We love supporting the dressage community, and 'Shop Talk' has proven to be a successful way for dressage enthusiasts to gather and learn," Hundt said. "It's always great to meet new people at 'Shop Talk' as well as welcome back clients who we have known for years."
For more information on ShowChic or Shop Talk, visit www.showchicdressage.com or call (561) 319-2121.
ShowChic is located at 3220 Fairlane Farms Road, Suite 3 in Wellington.
For more about Tami Hoag, as well as The 9th Girl and her other books, visit www.tamihoag.com.
ABOVE: Best-selling author Tami Hoag with one of her dressage partners, Feliki.