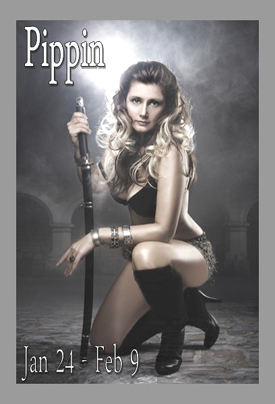 The Boca Raton Theatre Guild has chosen to produce two acclaimed musicals for its 2013-14 season. The commercial and critical success of their recent production of Chicago was one of the key factors inspiring the change. In the past, its seasons have consisted of one musical and one play.
The BRTG season will open with They're Playing Our Song, the Neil Simon/Marvin Hamlisch disco era musical, and will conclude with Stephen Schwartz, Bob Fosse and Roger O. Hirson's 1972 classic Pippin.
"The recent loss of composer Marvin Hamlisch led us to re-examine his unique body of work to see which shows have been overlooked," Producer/Director Keith Garsson explained. "It didn't take long to come across They're Playing Our Song and realize that its energetic disco score, New York setting and funny script by Neil Simon was a terrific choice to insert into the spot usually reserved for our straight play."
They're Playing Our Song will star Carbonell Award winners Margot Moreland and Oscar Cheda as fictional counterparts to the real-life romance between Hamlisch and lyricist Carol Bayer-Sager.
Moreland recently wowed BRTG audiences in her critically acclaimed performance of last year's Sweet Charity, and Cheda recently completed a run in the critically acclaimed production of In the Heights at Actor's Playhouse. Caryl Fantel will serve as musical director for the production.
The season will conclude with the guild's traditional "big" musical. According to musical theater scholar Scott Miller in his 1996 book, From Assassins to West Side Story, "Pippin is a largely under-appreciated musical with a great deal more substance to it than many people realize."
Currently enjoying an extremely successful revival on Broadway, Pippin uses the premise of a mysterious performance troupe, led by a Leading Player, to tell the story of a young prince and his search for meaning and significance.
"Pippin features a collection of dance-in the-aisles tunes," Garsson said. "It ran for years on Broadway, beginning in 1972. Of course that was over 40 years ago… expect some innovations. And we're really pleased Ron Hutchins, who created all that brilliant choreography in Chicago, will be joining us for both shows this season as we continue to grow our productions as our audience demands."
The Boca Raton Theatre Guild is a not-for-profit organization dedicated to producing professional productions and advancing the art of theater in the South Florida community.
They're Playing Our Song runs Nov. 8-24, with previews on Nov. 8 and 9. Performances of Pippin will run Jan. 24 through Feb. 9, 2014, with previews Jan. 24 and 25.
General admission tickets cost $35; tickets to previews cost $30. Show times are 8 p.m. Wednesday through Saturday and 2 p.m. Wednesday, Friday, Saturday and Sunday.
All performances will take place in the Willow Theatre at Sugar Sand Park (300 S. Military Trail in Boca Raton, just south of Palmetto Park Road).
To purchase tickets for They're Playing Our Song or Pippin, call the Willow Theatre box office at (561) 347-3948. For more about the Boca Raton Theatre Guild, visit www.brtg.org or www.carolkassie.com.
ABOVE: Pippin to run at BRTG.