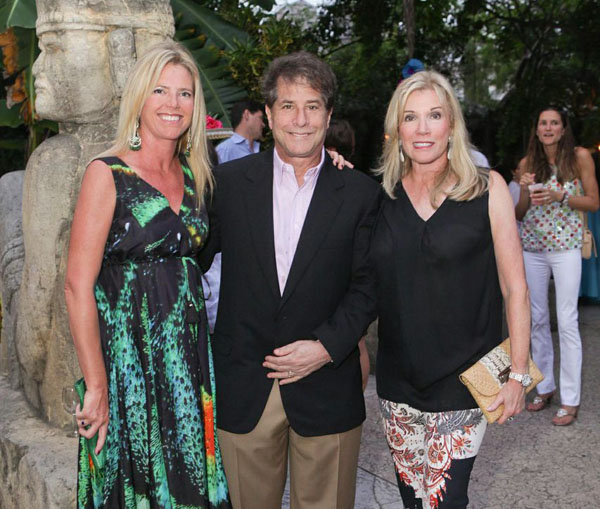 Palm Beach Zoo supporters flocked together and headed "south of the border" on Friday, May 10 for the annual spring "Do at the Zoo" fundraiser.
This year's fundraiser raised more than $100,000, with all proceeds helping to advance the zoo's mission to protect wildlife and wildlife habitats, and inspire others to conserve the natural world.
The evening featured a delicious array of south-of-the-border-themed finger foods provided by area restaurants. Bacardi was once again the exclusive cocktail sponsor. The evening highlighted the Cazadores Tequila ZooRita, a specialty cocktail created by Bacardi specifically for the event.
Guests danced the night away under the stars in the zoo's beautiful Mayan Plaza to music pumped out by celebrity DJ Adam Lipson.
Not to be missed were the countless animal encounters and behind-the-scenes tours of the bear, jaguar and bush dog habitats.
Mary Baker and Susanna Hager served as honorary chairs with Whitney Bylin, Thomas C. Quick and Ashley Ramos serving as event committee chairs.
The host committee included Debbie Dunkin, Lourdes Fanjul, April Finch, Mary Freitas, Candy Hamm, Michele Kessler, Patrick Killian, Emily Mateer, Lauriston V. Segerson, Maura Smith, Linda Soper, Kelly Stenzel, Samantha Storkerson and Maura Ziska.
The Palm Beach Zoo thanks the evening's sponsors: Frederick and Gale Alger, James Berwind, Eric and Whitney Bylin, CBIZ Benefits & Insurance Services, Christie's, Eric Christu and Maura Ziska, Luis and Lillian Fernandez, Steven and April Finch, Florida Power & Light Company, Mark and Mary Freitas, Mr. and Mrs. William Hamm III, Lawrence and Michele Herbert, Charles and Ann Johnson, Howard and Michele Kessler, Palm Beach Kennel Club, Lisa H. Peterfreund, Thomas C. Quick, Michael and Ashley Ramos and U.S. Trust.
The Palm Beach Zoo is located at 1301 Summit Blvd. It is open from 9 a.m. to 5 p.m. every day except Thanksgiving and Christmas. For more information, visit www.palmbeachzoo.org.
ABOVE: Whitney Bylin with Howard and Michele Kessler. PHOTO BY LUCIEN CAPEHART PHOTOGRAPHY