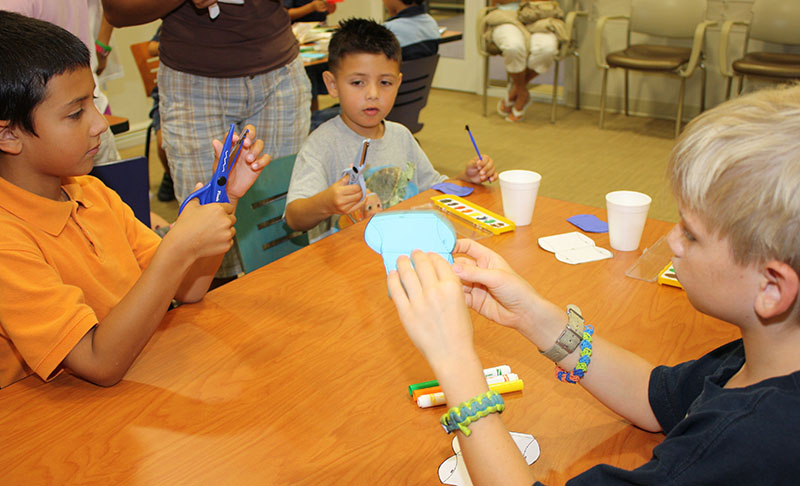 BY ALEXANDRA ANTONOPOULOS
The Wellington, Royal Palm Beach and Acreage branches of the Palm Beach County Library System have plenty to offer children and teens while school is out this summer.
Over the next few months, each branch will offer its own calendar of events with programming that will keep children and teens entertained while they are enjoying their break, helping keep their minds sharp and brains active.
Leah Lewandowski, head of youth services at the Wellington branch library, said her location will host a regular Summer Story Time program, which begins June 10 and runs through Aug. 2.
Summer Story Time is not only a fun way to pass the time, but aims to broaden children's experiences and stimulate creative thought. With classes for children from infants to toddlers and story time for teens, there is a program designed to include every Wellington child.
"Our summer reading program kicks off this weekend," Lewandowski added. "Kids and teens can sign up and record the number of hours that they read in a log. After they complete the program, they can turn in their log to receive prizes."
Other recurring events at the Wellington branch include a Lego building class for children ages 8 and older, which also runs at the Acreage branch; Pajama Tales, where kids ages 2 through 6 can bring their Teddy bears and wear their favorite pair of jammies while they wind down for the evening; and Teen Game Night for children ages 12 through 17 to relax, play Nintendo Wii and board games in a safe, supervised environment.
Beyond the recurring programs, the Wellington branch always has something planned to please youngsters and their parents.
"We also have some cool programs going on, such as baseball story time with a visit from one of the Rodger Dean Stadium mascots later in the month," Lewandowski said.
On Thursday, July 25, the Wellington branch will also host a special one-hour, parent-child workshop presented by the Anti-Defamation League. The Miller Early Childhood Initiative workshop is open to children ages 3 through 6 and their parents. Its goal is to promote self-respect and respect for others among preschool-age children in order to teach awareness of prejudice at an early age.
The Royal Palm Beach branch also offers story time programs, but with its own schedule and topics. On Saturday, June 29 at 10:30 a.m., folk musician Matthew Sabatella will host "Dig Into Reading: The Real Florida" for children of all ages. The group will discuss Florida's rich and diverse history, while visitors can sing along to authentic songs about the state.
Sabatella will also bring his Florida-themed event to the Wellington branch at 2 p.m. on June 29 and to the Acreage branch Thursday, June 13 at 4 p.m.
Crafternoon is a recurring event at the Royal Palm Beach branch, running every Monday at 5 p.m. and Fridays at 3:30 p.m., where children ages 9 and older learn basic crafting stitches and socialize while working on projects.
On Thursday, June 13 at 2:30 p.m. visit the Royal Palm Beach branch library for its "Jellyfish in a Jar" workshop where children ages 6 through 10 will make swimming jellyfish out of recycled materials.
At the Acreage branch, Crafts for Kids runs consecutive Tuesdays, beginning June 11 and ending June 25. The class begins at 2 p.m. and children ages 4 through 8 will make friends and create a new craft project each week.
Although many of the programs welcome drop-ins, it is best to pre-register at the particular branch hosting the event. Every branch offers a take-home pamphlet with program descriptions and a calendar of events to allow parents and children to plan their summer library schedules.
For more information, stop into the Wellington (1951 Royal Fern Drive), Royal Palm Beach (500 Civic Center Way) or Acreage (15801 Orange Blvd.) branch libraries, or visit www.pbclibrary.org for a complete schedule of events.
ABOVE: Jonathan and Josiah Jocewicz create paper owls after story time Tuesday at the Wellington branch library.