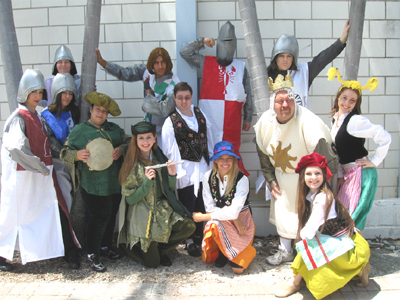 Entr'Acte Theatrix will present Monty Python's Spamalot from June 20 through June 30 at the Crest Theatre at the Delray Center for the Arts.
The play is "lovingly ripped off" from the 1975 film Monty Python and the Holy Grail, with a book by Monty Python's Eric Idle, and a score by Idle and John Du Prez. Like the film, it's an irreverent and typically Pythonesque parody of the Arthurian legend.
The legendary King Arthur, accompanied by his faithful servant, Patsy, travels through his kingdom, collecting members for his Knights of the Round Table. Some of his recruits include Sir Robin, a collector of plague victims, and Lance a "large, handsome and incredibly violent man." The Lady of the Lake (and her Laker Girls), Sir Bedevere and Sir Dennis Galahad eventually join Arthur in his search for the Holy Grail. The show also features a bevy of beautiful girls (of course), not to mention "cows, killer rabbits and French people." As the Sunday Times observed, Monty Python's Spamalot "raises silliness to an art form."
Entr'Acte Theatrix has assembled a talented cast to populate the surreal world of Python. The suitably kingly John Costanzo will take on the role of Arthur, Sharyn Peoples will play the Lady of the Lake, and Carbonell nominee Mike Westrich will don Sir Galahad's armor. Other cast members include Darrick Penny as Sir Robin and Mike James as Sir Bedevere.
"Spamalot is one of the most cleverly written comedies of Broadway's recent history," said Kevin Black, the show's director. "I have always wanted to direct Spamalot, and I'm so happy to finally have the chance. We have assembled a very talented cast, including Mike Westrich and the amazing Sharyn Peoples as the Lady of the Lake. Every rehearsal is a barrel of laughs; we are all having so much fun. I have no doubt that fans of Monty Python, and even those who have never seen this iconic British humor, will have a blast at the show."
Spamalot's musical director, Roger Blankenship, is equally enthusiastic about the show. "The music is fun to sing and to hear, and this cast is definitely up to it," he said.
Monty Python's Spamalot will run for 12 performances only, Thursday, June 20 through Sunday, June 30, at the Crest Theatre at the Delray Beach Center for the Arts at Old School Square. The theater is located at 51 North Swinton Ave., Delray Beach. Show times are Thursdays and Fridays at 8 p.m.; Saturdays at 2 and 8 p.m.; Sunday, June 23 at 2 and 8 p.m.; Wednesday, June 26 at 8 p.m.; and Sunday, June 30 at 2 p.m.
Tickets are on sale now and are available by calling (561) 243-7922. Tickets cost $20 general admission, $15 for groups of 15 or more (with the 16th ticket free) and $10 for children under 12. Student rush tickets will be available for $10 a half-hour before curtain only, with valid ID. Tickets can be purchased online at www.delraycenterforthearts.org or by calling (561) 243-7922, ext. 1.
For more information about Entr'Acte Theatrix or Monty Python's Spamalot, visit www.entractetheatrix.org, or contact Carol Kassie at ckassie@gmail.com or (561) 445-9244.
ABOVE: Some of the cast members from Monty Python's Spamalot.