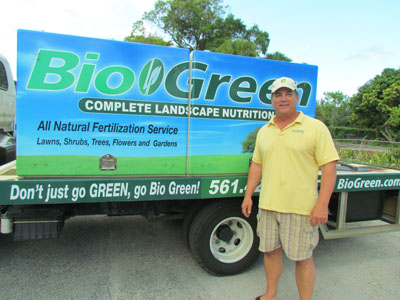 Bio Green is changing the face of lawn care and pest control by using environmentally friendly, nutrient-rich fertilizers that help plants and grass grow just as well as landscaping treated with chemical fertilizers.
The company serves residential homes, commercial businesses and private communities throughout the western communities.
Bio Green of the Palm Beaches owner Mark Pignato started the business four years ago after learning about the natural fertilizer company from a family member.
"He called me and told me about it, and I liked it," Pignato recalled. "After checking it out, I started the business.
When Pignato first learned about Bio Green, the company did not have any trucks on the road.
"This is the first truck line on the road for Bio Green," he said. "I purchased an area from them, so I don't have to pay a franchise fee. But the company has since evolved and now they sell franchises."
Most companies that provide lawn care and pest control use chemical fertilizers, Pignato said.
"That has been the standard for many years," he explained. "Bio Green came up with the concept to use less chemicals."
Bio Green founder John Perry was based in Lake Tahoe.
"He had a company that was working around Lake Tahoe and was told to stop all septic tanks and chemical fertilizers because they were polluting Lake Tahoe," Pignato said.
Coming from a long line of agriculturists, Perry developed a new, all-natural form of fertilizer and named it Bio Green. "You don't need to use chemical fertilizers anymore," Pignato said. "You never really did, but people just do because they don't want to change."
Bio Green is made with all-natural plant matter.
"All the ingredients are environmentally friendly," he said. "We have a stamp of approval from the USDA bio-preferred program."
Using this program, the USDA has examined all-natural products to determine rankings based on how environmentally friendly they are. Pignato said that there are more risks with chemical fertilizers as opposed to natural ones.
"The chemical plant that recently blew up in Texas, that was a chemical fertilizer plant," he said. "Those chemical fertilizers are highly explosive, and our product is not."
Going green does not necessarily mean higher cost, Pignato said.
"Our prices are just as competitive as the chemical fertilizers; it's just a matter of which one you prefer," he said. "We are right in line with most of the companies using all chemicals. If it's the same price, why not go with a natural product that works just as good if not better than most chemical fertilizers?"
Bio Green is safe for children and pets, he said, because it's made out of plant nutrients. The fertilizer also has a soil amendment that puts back into the soil things that have been stripped away due to years of chemical misuse.
"It enhances the root growth of all plants," Pignato said. "We use Norwegian sea kelp because it has a bio stimulant in it that makes the root of plants really grow like crazy, increases color, and gives stress and temperature tolerance."
Although Bio Green is known for using all-natural fertilizers, it does offer some chemical options.
"Sometimes there is a problem like an insect infestation, where we need to use chemicals," Pignato said. "We try to stick with natural fertilizers as much as possible, but there are times when we know that the problem will only be fixed with the chemical fertilizers."
Bio Green is located at 8135 Southern Blvd., West Palm Beach. For more info., visit www.biogreenofthepalmbeaches.com or call (561) 422-9966.
ABOVE: Bio Green of the Palm Beaches owner Mark Pignato in front a company truck.