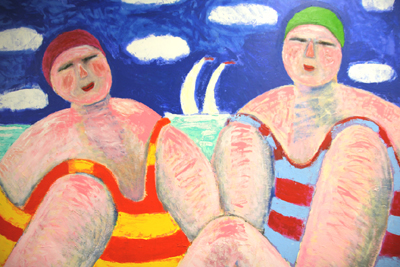 The Herencia Experiential Art Center is an art gallery with a mission: to promote vitality in the community through the arts. The unique combination of offering both affordable art and emotional wellness has put the gallery well on its way to bringing healing and hope to the underserved, working-poor community it calls "home."
When Herencia's owner, Veronica Sirotzky, first envisioned opening a gallery, she wanted a location where she could nurture as well as showcase the community's natural resiliency through the visual arts. So when space became available at Military Trail and Cherry Road in West Palm Beach, Sirotzky jumped at the opportunity of opening up shop in the neighborhood.
"While Northwood and Antique Row are top-of-mind locations to open a gallery, the vibrant culture and hardworking, resilient people found within this community is undeniably the reason I'm here," she said.
The gallery is supporting the local community by featuring a variety of work from local Palm Beach County artists. One such artist is Dr. Andres Suarez, a Peruvian-American medical doctor and role model to Hispanic/Latino youths. His "photo art" adds an original twist to photographs of ordinary objects and activities by adding his signature abstract editing effect. "Variety" also applies to the range of ages of local artists found at the gallery with works by up-and-coming sketch artist, Katie Dominguez, a Suncoast High School student, and veteran Loxahatchee sculptor Peter Otfinoski sitting side-by-side.
The center's focal point is the Listening Center, located in the middle of the gallery, where Sirotzky hopes to encourage emotional wellness without feeding into conventional stereotypes or stigmas currently associated with mental health services.
The Listening Center is a place where individuals can share their problems with someone who will unconditionally listen. Sirotzky, a trained clinical social worker, guides the sessions herself. "At only $30 per session, we want to encourage people to use these sessions as a resource to overcoming life's challenges. They are not meant to replace traditional therapy sessions, but rather enhance them."
Herencia is the Spanish word for "heritage" and "inheritance," and Sirotzky wanted to find a way to have the center live up to its name. To that end, she set up the Herencia Scholarship Program for college-bound underserved youths in Palm Beach County. A portion of all art sales from the Herencia Experiential Art Center go toward supporting this cause.
For more information about the center, call (561) 201-2930 or visit www.herenciagallery.com.
ABOVE: Bathers by Peter Otfinoski of Loxahatchee.