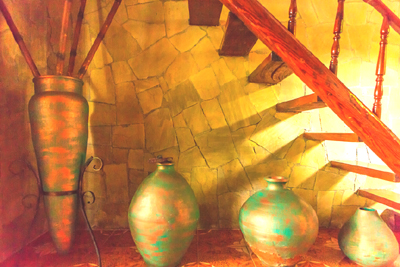 Fatima NeJame, president and chief executive officer of the Palm Beach Photographic Centre, has announced the recent opening of its new exhibitions, "Infocus Juried Show" and "Picture My World." Both exhibits are on display now through Aug. 17.
The Palm Beach Photographic Centre's 17th annual "Infocus Juried Show" will showcase the work of its student members, both inside the facility and on its web site, www.workshop.org. A Best of Show cash prize of $950 was awarded, as were two merit awards for free tuition for a FOTOfusion Passport or a master workshop. This year's winners were announced at the exhibition's opening reception on June 19.
The "Infocus" juror is Raymond Gehman, who has worked for the National Geographic Society since 1986. With three cover photographs and numerous books and articles, he has been on assignment in Yellowstone, Wyoming's Bighorn Country, Florida's Sanibel Island Gulf Coast, the Canadian Rockies, the rain forests of Belize, glaciers and icebergs of Iceland, dark Polish forests, and rural China during the People's Republic's 50th anniversary celebration. Gehman has documented grizzly bears, the vanishing prairie dog and wetlands, the ecology of fire, the aftermath of hurricanes, hot pools and nocturnal Apache ceremonial dancers.
Denise Felice is serving as mentor for the "Picture My World" exhibit. Since 1997, the Palm Beach Photographic Centre presents "Picture My World" as a way to serve disadvantaged and delicate children in the community, ages 8 to 17. Strategic curriculums of photography exploration combined with introspective journal writing teach an appreciation of family and community, while simultaneously promoting the development of non-violent means of expression, self-esteem, personal responsibility and problem solving skills. The lessons create awareness for each student that they are valued and that their voice can make a positive difference in their lives and the lives of others.
Community groups benefiting this year are Boca Raton's Promise Breaking the Silence for Mental Wellness, Canstruction Inaugural Project, Lake Worth Middle School and the Place of Hope Child Protection Center.
"A heartfelt thank you is given to all our generous members, private donors and the PNC Foundation, for enabling 'Picture My World' to continue to provide a caring and healthy path for our next generation of community adults," Felice said.
The Palm Beach Photographic Centre is located at the City Center municipal complex at 415 Clematis St. in downtown West Palm Beach. Its hours are 10 a.m. to 6 p.m. Monday through Thursday and 10 a.m. to 5 p.m. Friday and Saturday.
For more information about the Palm Beach Photographic Centre, call (561) 253-2600, or visit www.workshop.org or www.fotofusion.org.
ABOVE: Jars, Cienfuegos, Cuba by George Moore is featured in "Infocus."