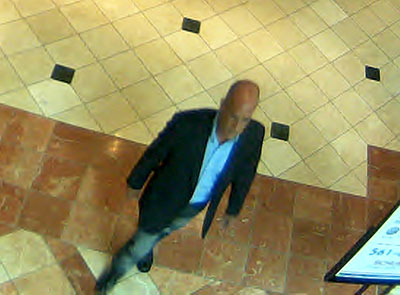 APRIL 25 — Palm Beach County Sheriff's Office detectives are seeking the public's assistance finding a man in connection with the April 25 theft of eye glasses at the LensCrafters store in the Mall at Wellington Green.
According to a PBSO report, an unknown white or Hispanic male entered LensCrafters and stole 10 pairs of eye glasses and frames valued at more than $2,000 by concealing them in his shirt. The suspect is described as bald and wearing a dark sports coat and button-down shirt.
Anyone who can identify this suspect is urged to contact Crime Stoppers of Palm Beach County at (800) 458-TIPS.
ABOVE: A security camera image of the suspect walking through the mall.