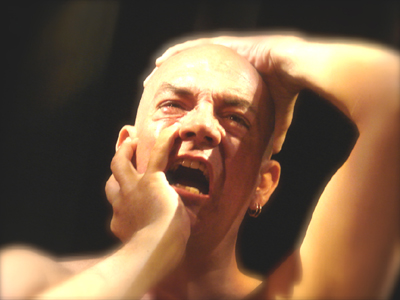 "There is a world elsewhere…"
The Palm Beach Shakespeare Festival takes this memorable line literally during the 23rd annual Shakespeare by the Sea production of William Shakespeare's Coriolanus. The free, outdoor professional production of the Bard's works takes place July 11-14 and 18-21 at the Seabreeze Amphitheatre at Carlin Park in Jupiter. The play is produced by the late Del Tenney in association with Palm Beach County Parks & Recreation.
One of Shakespeare's lesser-known plays, Coriolanus is the tale of an uprising in "a place they call Rome" with the titular military genius fighting enemies without, while finding himself reviled and betrayed by those he fights to protect.
The decision to place this year's production in a literal "other world" was a natural one for the Palm Beach Shakespeare Festival. The festival,  like most professional Shakespeare companies, seeks to show the relevance of Shakespeare's works in any time, and any location.
"Coriolanus is raw politics, and Shakespeare's political realm exists in many worlds: The Middle Ages are at home in the Renaissance, the Renaissance is found in Rome, and the pre-historic is futuristic," said Kevin Crawford, guest director and veteran Shakespearean actor. "Power is power anywhere and everywhere, and people will kill for it. It's that simple."
Crawford plays the lead in the production with other veteran company members, including Krys Parker as Coriolanus' wife, joined by festival newcomer Karen Chandler as Coriolanus' domineering mother.
Gates open at 6:30 p.m. with pre-show entertainment from Court Jester Richard Ribuffo. Showtimes are at 8 p.m. Admission is free with a $5 donation suggested per person. Bring a beach chair, blanket and picnic basket or enjoy concessions at the Seabreeze Amphitheater at Carlin Park in Jupiter.
Call the Palm Beach County Parks & Recreation Department events hotline at (561) 966-7099 or visit www.pbshakespeare.org for more information.
Shakespeare by the Sea XXIII, in partnership with Palm Beach County Parks & Recreation, is sponsored by Del Tenney, the Palm Beach Post, Publix Supermarket Charities, Holiday Inn Express in Juno Beach and the Cultural Council of Palm Beach County.
The Palm Beach Shakespeare Festival is a nonprofit professional theater company dedicated to enhancing the accessibility and appreciation for Shakespearean, classic and contemporary theater for all ages and socioeconomic levels. For more information about the festival, its history or its season, visit www.pbshakespeare.org.
ABOVE: The free production of Coriolanus can be seen July 11-14 and 18-21 at Shakespeare by the Sea XXIII.