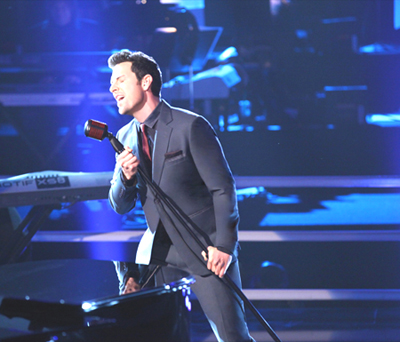 Bob Lappin and the Palm Beach Pops welcome their 22nd season with incredible talent, programming and the world-class orchestra that continues to receive rave reviews.
Next season, the Palm Beach Pops will feature the following concerts: The Music of Whitney Houston & Friends (Nov. 7-10), An Evening with Chris Mann (Dec. 6-10), Smoky Standards of the Mad Men Era (Jan. 3-6), The Music of Marvin Hamlisch (Feb. 4-7), Unforgettable: Nat King Cole (March 11-14) and Broadway Spectacular (March 30 to April 2).
In addition to the already stellar season announced earlier this year, the Palm Beach Pops just added Ryan Silverman, Dee Daniels and Tom Wopat to the 2013-14 lineup.
Mann certainly shined as a finalist on The Voice, but his star has risen even higher since the hit show's second season. In 2012, Mann signed with Faircraft/Republic, a new label formed by renowned producer/music executive Ron Fair (Christina Aguilera, Mary J. Blige). His debut full-length album, Roads, introduced a whole new generation to the classical-pop genre and shot straight to No. 1 on Billboard's Heatseekers Chart and Top Five on Billboard's Classical Chart. His most recent credits include singing for President Barack Obama and First Lady Michelle Obama as part of TNT's special Christmas In Washington, appearing on The Today Show, The Tonight Show with Jay Leno and the NBC special Christmas in Rockefeller Center.
Mann kicked off 2013 with a performance on Conan and his very own PBS special helmed by award-winning producer Ken Ehrlich. Titled A Mann For All Seasons, the show features special guest appearances by multi-platinum artist Martina McBride. Most recently, he received outstanding reviews for his performance during the PBS Memorial Day special. Join this new hit star as he brings his talents to the Palm Beach Pops stage this coming season.
With his good looks and robust baritone, Broadway star Silverman, known for his leading roles in Phantom of the Opera, Mamma Mia!, It's Complicated with Meryl Streep and Alec Baldwin, Sex and the City 2, Gossip Girl and many other TV and theater credits, is an all-around talented singer and actor. He will bring to life the music and ambiance of the Mad Men era alongside Lappin and the Palm Beach Pops.
With a four-octave vocal range, Daniels is also an outstanding pianist and an international artist who has performed around the globe, taught music and has received rave reviews for her symphony performances — most recently her tribute to the music of Ray Charles.
Wopat has had a wide-ranging career from TV to Broadway to blockbuster movies and the symphony stage. The Tony-nominated actor and singer was the star of long-running The Dukes of Hazzard hit TV show, the star of Annie Get Your Gun on Broadway and, most recently, starred as the sheriff in Quentin Tarantino's Oscar-winning Django Unchained with Jamie Foxx. Join the Palm Beach Pops and Wopat for an amazing evening of Broadway's best music.
The Palm Beach Pops performs at three venues throughout Palm Beach County: the Carole and Barry Kaye Auditorium at Florida Atlantic University in Boca Raton, the Kravis Center for the Performing Arts in West Palm Beach and the Eissey Campus Theatre at Palm Beach State College in Palm Beach Gardens. Season subscriptions to all venues are on sale now with single tickets set for sale later this summer by calling (561) 832-7677.
"A subscription to the Palm Beach Pops concert season is a great investment into cultural arts in this community and as many of our patrons know, the performances are incredible," Executive Director David Quilleon said. "We rely on our family of subscribers and individual patrons to support our music endeavors and to be able to bring such world-class concerts with such an accomplished orchestra to this area."
Season ticket packages cost $125 to $495 for shows at the Kravis Center, $138 to $360 for shows at FAU's Kaye Performing Arts Auditorium and $399 to $469 for shows at the PBSC Eissey Campus Theatre.
For more information about Bob Lappin and the Palm Beach Pops, including a full concert schedule and details, call (561) 832-7677 or visit www.palmbeachpops.org.
ABOVE: The Voice finalist Chris Mann performs Dec. 6-10.