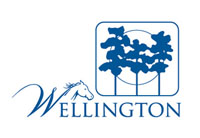 BY ALEXANDRA ANTONOPOULOS
Wellington's Family Fourth Celebration will be held Thursday, July 4 at Village Park (11700 Pierson Rd.). The park will once again host activities for family members and friends of all ages to enjoy as they celebrate Independence Day.
The day starts, however, at noon with a Patriotic Pool Party at the Wellington Aquatics Complex (12150 W. Forest Hill Blvd.). For the pool's regular entrance fee, kids and adults can spend the afternoon splashing around under the sunshine before they dry off and head to the park. The pool party ends at 5 p.m., but more holiday fun gets underway at 6 p.m., when the party officially moves to Village Park for the Family Fourth Celebration.
From 6 to 9 p.m., the park will be filled with inflatable slides, rides and obstacle courses, vendors selling everything from hot dogs to snow cones and live music by the Brass Evolution band.
Wellington Parks & Recreation Director Bruce DeLaney reminds patrons that there will be a lot to see and do, and most of it at no cost to them.
"Everything is free except for the food," DeLaney said. "We will have a lot of traditional games: tug-of-war, sack races, a pie-eating contest and even a watermelon-eating contest," he said.
"For those who want to get out of the heat a little bit, people can participate in a free bingo game inside the gymnasium," DeLaney said, adding that the air-conditioned gym will offer a respite from the heat for the majority of the evening.
DeLaney noted that kids can enjoy about 10 different events, including a rock-climbing wall and several different bounce houses.
Throughout the Family Fourth Celebration, live music will be performed by Brass Evolution, led by Wellington's Jody Marlow. DeLaney noted that the popular local band has a great reputation. "They have a very good following, and they do a really good job," he said.
Brass Evolution will add to the festive atmosphere as they play a variety of tunes throughout the evening.
New this year, the holiday lineup also includes some animal encounters. "This year, we are putting a small petting zoo area behind the gym," DeLaney said, explaining that kids can interact with small farm animals and even take a pony ride. "We thought it would be a good opportunity for something different that everyone can enjoy."
At 9:15 p.m., onlookers at the park and in surrounding areas will enjoy a spectacular fireworks show produced by Zambelli Fireworks, complete with musical accompaniment and a grand finale sure to please everyone watching.
DeLaney said that the Fourth of July is always a special time, but that it seems to have particular significance because it brings families out and about in Wellington. "We expect that 5,000 to 6,000 people will come out to celebrate with us," he said. "It's a terrific evening for everyone to come out and enjoy Independence Day."
As for parking, free shuttle transportation will be available from the Mall at Wellington Green's Palm Tran bus stop.
For more info., visit www.wellingtonfl.gov.