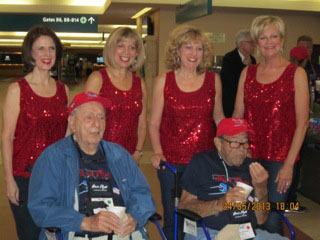 Sunsation, the Women of Note Chorus' chapter quartet, sang for the Greatest Generation veterans as they departed from Palm Beach International Airport on a U.S. Airways Honor Flight to Washington, D.C., on Saturday, May 25. Sunsation serenaded the vets with songs from the era of big band and swing music.
Many vets shed a few tears while Sunsation's voices crooned "Old Cape Cod," "Over the Rainbow," "I'll Be Seeing You" and "The Star-Spangled Banner" as the vets boarded a charter plane to visit Arlington National Cemetery, the U.S. National World War II Memorial and other monuments.
"The Andrews Sisters," one vet shouted out. "I saw you at the Port of New York Pier," another called out. Norman Shapiro, a decorated vet who served in Europe with the 82nd Airborne under "Jumpin Jim" Gavin and helped to liberate a prisoner of war camp in Ludwigsburg, Germany, was visibly touched as he and a friend listened to the crisp, harmonic blend of the quartet, adorned in red sequined tops, warbling strains from the big bands of Glenn Miller, Artie Shaw and Benny Goodman.
"We are happy to sing for this group and are thrilled at their appreciation for the music," Quartet member Cindy Moeller said.
"It was worth getting up at 4:15 a.m. to get here," Marcy Wiseman added. "The vets loved giving us hugs and having their pictures taken with us."
Sunsation has sung for the early-morning Honor Flights for three years. Danielle Pachter and Gail Katz enjoy watching the vets' smiling faces and delight in the hugs of gratitude they receive from the men waiting to board their flight to Washington.
Visit www.womenofnote.com or call (877) 966-7464 for more information about the Women of Note Chorus, or check them out on Facebook.
Contact the Sunsation Quartet at www.sunsationquartet.com.
ABOVE: Sunsation Quartet members Marcy Wiseman, Gail Katz, Cindy Moeller and Danielle Pachter with World War II veterans.