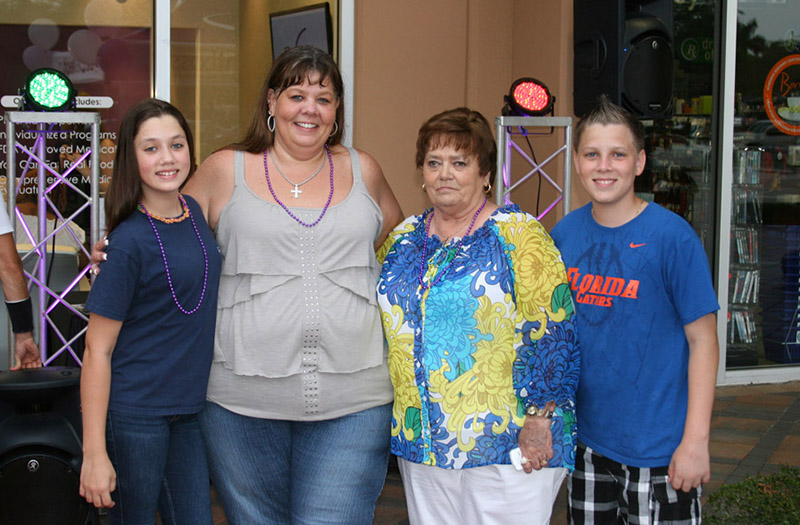 One lucky woman is getting the chance to change her life with the help of the local business community. Cecile Delmastro is the winner of the Change a Life Wellington contest, and will get all the help she needs for a complete makeover.
Lisa Butcher, the wellness coach at Dr. G's Weight Loss of Wellington, started the contest last year as an opportunity to inspire someone to change his or her life for the better.
"This was something I felt in my heart that I wanted to do for the community," Butcher said. "I see so many people out there struggling with life in general, but also with their health. If you don't have your health, you don't have anything."
The Change a Life Wellington contest selects one winner who gets a $10,000 head-to-toe makeover.
"I wanted to do something to help people change their life," Butcher said. "If you can make a difference in just one person's life and know that you've done something positive at the end of the day, there's nothing better."
Last year, Butcher brought Perfect Smile Dentistry and Visions Hair Salon on board to help make the transformation.
"We always enjoy seeing the results of someone taking the initiative to change their health and appearance," Visions owner Tom Monticello said. "We volunteered our services to be a part of it because we understand that this is a deserving person who maybe doesn't have time or resources to do a makeover. This is an opportunity for us to give something back to someone who deserves it."
Dr. Rasmi Akel and Dr. Barbara Bates of Perfect Smile Dentistry feel honored to give back to the community that has made their practice a success. "It's a wonderful feeling when, during a difficult economy, we can improve someone's smile and self-confidence," Bates said.
This year, the list of sponsors has grown. "The community really came out to support this," Butcher said.
Delmastro won a 90-day medical weight loss program from Dr. G's, personal training from the Zoo Health Club, $6,000 in dental work from Perfect Smile Dentistry, $500 in plastic surgery from Bafitis Plastic Surgery, liposuction from Lipo Light/Beach Body Contouring, a specialty facial from Sanda Gané European Day Spa, a massage from Message Envy, hair and makeup from Visions and clothes from She's the One.
"It's very comprehensive," Butcher said of the weight-loss process. "She'll be under the care of a doctor. We're working with her in changing her diet and incorporating fitness."
Having a personal trainer to guide her will be a big part of that, Butcher added.
"This is not about changing just one thing," she said. "There are many moving parts. It's about changing her lifestyle. We want to help her make long-term changes that will last a lifetime."
Delmastro said she was shocked to find out that she had won. "I'm not a lucky person," she said. "I don't win many things."
Butcher said that she received more than 100 nominations for the contest, each with a unique story of struggle.
"There were so many good stories and deserving people," she said. "It was really hard. I wish I could give everyone this chance."
Butcher said that Delmastro's story stood out to her and the other sponsors, who all helped decide on a winner.
"She's a single mom of two children who works six days a week," Butcher said. "It's hard to take time for yourself. As mothers, we're so used to doing everything for our families."
The winner was announced June 20 at an event outside Dr. G's that brought out the entire community. JDC Entertainment donated time to keep the crowd entertained, and local businesses, including sponsors, came out to show their support.
"This year we did a live event," Butcher said. "All the nominees were present, and the winner was announced live that night. It was really emotional. [Delmastro] was there with her family, and she was so happy. It was just an awesome feeling."
Delmastro said it was an amazing feeling to be chosen. "I feel very blessed to be able to do it," she said. "My kids are also very excited. They really want me to succeed."
Butcher said she hopes to see Delmastro change her life.
"I hope she establishes self-worth, self-confidence and self-esteem," she said. "I hope she loves herself."
Monticello agreed. "For us, the satisfaction is in seeing someone who is thrilled about [his or her] makeover," he said. "We feel like we helped them reinvent themselves."
It will truly be a chance for a new lease on life, Delmastro said.
"I feel like this is a big chance for me to finally get healthy," she said. "I have a significant family history of medical issues, and I'm a single mom. It has been hard for me."
Butcher said there are plans for a big reveal party when the makeover is complete.
"I can't wait to see it all come together," she said.
As for the contest itself, Butcher hopes to see Change a Life Wellington continue to grow and touch more lives.
"I can't wait to see how this snowballs in the future," Butcher said. "I think it will take on a life of its own. I really want to see it grow and take off in other areas. Dr. G's has 35 locations worldwide, and they're looking at us as a model. I'd love to see it done for people all across the world."
You can track Delmastro's progress on Facebook by visiting www.facebook.com/changeof lifewellington.
For more information, or to be a part of next year's event, call (561) 370-6484.