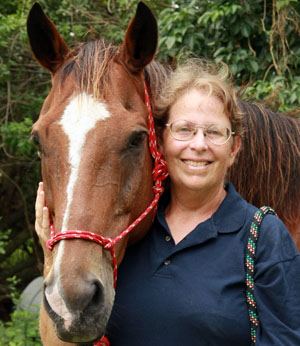 TAILS FROM THE TRAILS
"I had just purchased a lovely 5-year-old Warmblood. I hadn't even finished paying for him," Ruth Mack recalled. "I live in California, and I'd shipped him with the rest of my barn's horses to Wellington for WEF in 2009, just to start training him as a jumper."
The groom noticed he was spiking a high fever every morning and called a veterinarian.
"He had pleurisy, both lungs full of fluid, and was going downhill fast," Mack said. "Everyone thought he was a goner. Someone even advised me to just let him go. Then I brought him to Dr. Reid's veterinary practice. They had just built the hyperbaric chamber, and asked permission to use it on him. He was their first patient. By then he was a bag of bones. He stayed there eight to nine months. Now he's fine and gorgeous, 100 percent recovered. It absolutely saved his life. That facility and those vets are amazing."
The hyperbaric chamber, owned jointly by Dr. Byron Reid and Dr. Meg Miller Turpin, looks like a giant concrete pressure cooker, about 14 feet high by 12 feet in diameter, with portholes like diving bells. It uses pure oxygen under pressure to enhance healing in serious wounds, injuries and infections.
"This isn't like putting an oxygen mask on your face," Turpin explained. "By increasing the pressure all around the body, it compresses the oxygen into smaller bubbles, which then saturates the hemoglobin and all the tissues, increasing circulation. Racehorse trainers use it for bleeders, horses who routinely pop blood vessels in their lungs. It's very effective in promoting healing in abscesses and large infections, especially in bones, hooves and similar inaccessible places. It's great with non-healing, traumatized or necrotizing wounds. It enhances the use of antibiotics and promotes healing. We also use it post-op after colic surgery, for pneumonia, laminitis, spider or snake bites, smoke inhalation from a barn fire or bad swellings."
There are some risks involved. The horse can't have any metal, oil or lotions on him in the chamber, which means he gets a thorough bath, has his shoes pulled and wears a special cotton halter before going in.
With all that pure oxygen under pressure, the least little spark could be catastrophic. But the staff takes great pains to make sure everything goes right. And the horses seem to like it.
"Most of them stand quietly," Turpin said. "We may lightly sedate them the first time, but most walk in willingly. We watch them closely on a video camera. Each treatment usually takes about an hour. It takes about seven minutes to get them down to one or two atmospheres, where they stay for about 45 minutes, then seven minutes to bring the pressure back to normal, like ascending in scuba diving. It's safe and effective. Horses typically emerge sweating, but relaxed."
Turpin said some horses need only one treatment; some need three to five. A normal protocol might run one treatment per day for five days. More aggressive treatment might require two treatments per day. It all depends. And it's used not alone, but in conjunction with traditional treatments. It costs $500 per session, and after 10, you get two free sessions.
Carol Cohen of Wellington owned Two Swans Farm.
"I had one horse colic badly, with a blockage," she recalled. "Impresario was a Grand Prix horse who'd shown on the USET team. He was 19 at the time. He went into the hyperbaric chamber immediately after surgery, and it greatly helped his healing. He was schooling again three months later. He healed quickly and recovered completely."
It was also used on a mare, Trophia, with awful summer sores. "I thought, 'Let's give the chamber a try,' and she healed up quickly," Cohen said. "It also helped another of my horses, Daddy, who had lymphangitis so badly he couldn't even walk. One hind leg was swollen to three times normal. He was at death's door. They put him on IV antibiotics and used the chamber twice daily. It saved his life. Three weeks later, my daughter, Rebecca, rode him at the Junior National Championships in Gladstone, and he was Reserve National Champion. It was unbelievable."
To Cohen, the chamber is a lifesaver.
"I think the chamber is just brilliant," she said. "It really works, and the horses enjoy it. They're always frisky and happy when they come out. The whole staff is very professional, extremely safe and knowledgeable. I never felt like my horses were at risk. They take incredible care."
Elizabeth Pignatiello is one of the vet techs in charge of the chamber. She has worked there for three years.
"I like doing this," Pignatiello said. "I've seen some horses really benefit from it and some cool success stories, like bad pneumonia cases completely turned around. A lot of horses love it. They walk right in. We've also used it for other animals. Late one night, we got in a dog who had carbon dioxide poisoning. He didn't look like he'd make it, but he came running out with his tail wagging. We've also treated a couple of sea turtles brought in from the Loggerhead Marine Center. They did well."
Marcia Radosevich of Wellington also swears by the hyperbaric chamber.
"I had an old Thoroughbred named Aronagian, a grandson of Secretariat, my horse of a lifetime," she recalled. "When he was 26, he developed a lesion in his hoof and started to founder. My farrier recommended the chamber. He had a treatment every day for a month, then three a week for a couple of weeks, then twice a week. It stopped the bone's rotation. He grew so much hoof it was insane. He lived to see his 27th birthday. It bought him time and peace."
Radosevich would recommend the treatment to others.
"I have nothing but great things to say about the chamber and staff," she said. "They're incredibly kind and generous, and treat each horse like it was their own. They're wonderful. I can't recommend them, and the chamber, highly enough."
The hyperbaric chamber is located at Reid & Associates at 1630 F Road in Loxahatchee Groves. For more information, call (561) 790-2226, (561) 319-2557, or visit www.equinehyperbariccenter.com.